Clients experiment with a Cold War approach to contractors' broken promises, Persimmon struggles to find a new boss unembarrassed by its own largesse, and the door staff get prickly at the Building Awards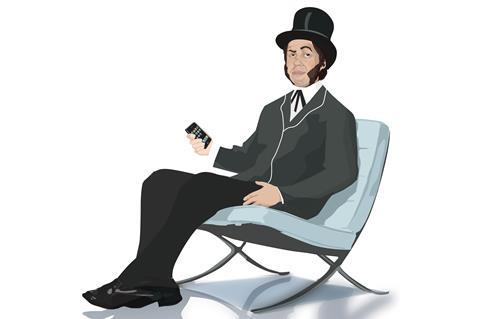 Hair-raising tale
To the Building Awards, where one of my fresher-faced hacks had trouble getting into our own event. Turning up at the Grosvenor House hotel on London's Park Lane last week, he was asked for ID by security in order to be allowed in. Happening to have his passport to hand, he was duly waved through – but with the advice that maybe he should "grow a beard" to avoid the same fate next year. Thing is, he's not sure he can.
Divided loyalties
Mace's Mark Reynolds may be slogging away to get Spurs' stadium finished on time – or, rather, for the latest revised completion date, whenever that is now, but when it comes to the beautiful game itself, his heart lies away from N17. No, Reynolds isn't an Arsenal fan – despite what some of my more mischievous acquaintances suggest. His club is Watford, a love he shares with superfan Elton John and, more bizarrely, Friends actress Jennifer Aniston.
Easy money
Who will be the new top boss at Persimmon now Jeff Fairburn has, in the words of Cenkos analyst Kevin Cammack, "been asked to leave with his wheelbarrow of fifties"? That's a reference, of course, to the £100m bonus – later cut to £75m – he trousered last year, the controversy around which refuses to go away. As other top brass are tarred by the same bonus scheme – Fairburn's interim replacement Dave Jenkinson landed £38m and CFO Mike Killoran £24m – that rules them out, thinks Cammack, making the options a relative unknown already at the firm or a "patsy external candidate for a couple of years". Cammack adds: "Nothing needs fixing." So, with that in mind, I'm throwing my hat into the ring.
It's playback time
Interviewing Tony Lenehan, boss of newly-branded Extentia Group, which owns fit-out firm Styles & Wood, my hack was told some public sector clients go to quite some lengths to ensure firms do what they promised. Filming interviews, for one thing. As Lenehan explains: "So much is said and committed to and clarified you can't write it all down. But if you've been filmed saying it and something goes wrong, what do they do? They put you in a room and play it back to you and say 'gotcha'." It's as if partnering and all those reports from yesteryear about making the industry less adversarial never happened.
Pass the tissues
Lenehan went on to tell my hack that the idea for the newly-branded Extentia Group, which provides property services from design to facilities management, came during a meal he had with the company's backer, Leeds-based tycoon Steve Parkin. Lenehan said: "He [Parkin] has an Italian restaurant, so over pizza and a Peroni we scribbled a [business] model on the back of a napkin and, as they say, the rest is history." I'm reminded of the dinner between Shard developer Irvine Sellar and architect Renzo Piano, which apparently ended with Piano scrawling the original design for the iconic building on a serviette. It seems all these big ideas get scrawled on the back of a napkin – I'd better stop using mine to wipe up smears of tomato ketchup.
A good grilling
Last week's cover star, Lee Polisano of 22 Bishopsgate architect PLP, could swap his pen for tongs, reckons Peter Rees. The former City of London planning chief was invited for dinner with Polisano and his wife at their garden flat in Chelsea. An impressed Rees said: "He's a dab hand at the barbecue – his steaks are very good." Given Polisano's wife is from Texas, I guess it could be a marriage-breaker if they weren't.
Spot the ball
A colleague of mine was wanting to get away from it all recently with a weekend away at a boutique hotel on the Kent coast. The hotel passed muster, I'm told, but imagine her surprise when she opened the curtains to reveal the view opposite. I'm sure some might be tempted to say something about the pic, but I won't. It's too much of an, ahem, open goal.
Send any juicy industry gossip to hansom@building.co.uk