This week, executive pay at Transport for London looks set for a dive, an Indian architect reverses the gender pay gap, Kengo Kuma's trainers have a spring in their step – and Santa gets an Elvis lift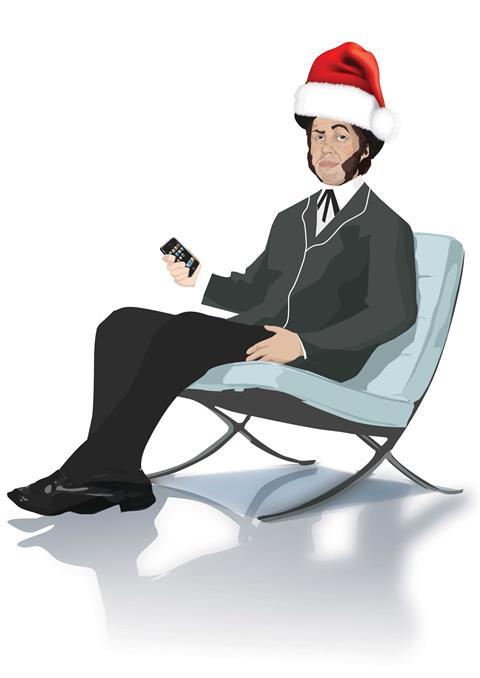 Heading for a fall
Having a quick browse through Transport for London's annual report for 2018/19 the other day, one of my team noticed something curious. The organisation publishes a list of plc firms it benchmarks its executive pay against. A couple on the list jumped out immediately – Carillion and travel firm Thomas Cook. Both have suffered spectacular, public blow-ups. Is TfL trying to tell us something?
On their uppers
Japanese architect Kengo Kuma – of V&A Dundee fame – has turned his hand to designing trainers in collaboration with Kobe-based sports-shoe specialists Asics. Dundee councillors, who watched the bill for their design museum climb from a projected £45m to £80m will not be surprised that the trainers, which go on sale in Japan today, are reassuringly expensive: they are £270 a pair – at the time of writing, at least.
Starry eyed
To architect Perkins and Will's Champagne and Chips event last week, which was held at the White Chapel Building in London's Aldgate. Other tenants in the building include video ad tech company Unruly which had a series of Star Wars-themed meeting rooms including one full of Stormtrooper helmets. These ad types. May the force be with them.
A fizzing event
At the same event, guests were asked to pick out a commemorative badge as a leaving present on the way out. One depicted a champagne bottle, the other a cone of chips. Needless to say, my hack picked out the champagne one. As the bubbly had been flowing that night, it was a fitting memento.
Gin will fix it
Sticking with booze, the famed London Gin Club in the capital's Soho district is being forced to shut its doors for the best part of a year in order to repair flooding damage caused by work on the nearby Crossrail scheme. Let's hope the repair work doesn't mimic the sort of problems Crossrail has run into: that it ends up over two years late and more than £3bn over budget. Now that would be enough to drive anyone to Mother's Ruin.
Women trump men
The WA 100 is out this week and one entry makes interesting reading. Indian firm Morphogenesis became one of the first architects to report a gender pay gap in favour of its women employees. It is working on a Trump Tower in Kolkata. I'm sure the noted feminist whose name it bears would approve.
Late learners
In HS2's recent board minutes, the organisation said that it had learnt lessons from other big infrastructure projects. One was over issues "where there had been the materialisation of a lot of risks in a small timescale". In other words, it is no good when problems on a project all emerge at once. Has it really only just realised this?
Home in time for the Queen?
Spare a thought for the team at Graham who will be starting early doors on Christmas Day to install a new pedestrian and cycle bridge. The job, part of the £1.1bn East Bank project, will see workers take advantage of the rail network shutdown. The good news? The firm aims to have the work wrapped up by 3pm, so everyone can go home to watch the Queen's Christmas speech. Although Jeremy Corbyn, presumably, will have seen it in the morning …
Santa claus is back in town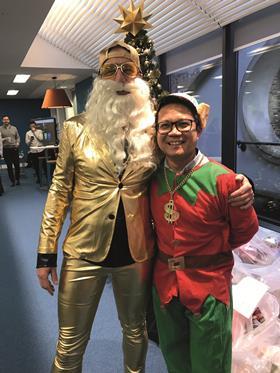 Ahead of Alinea's Christmas lunch last week, the team had a visit from a rather trendy looking Santa to hand out presents. My spies tell me the man in the gold lame suit and wannabe Elvis is founding partner Steve Watts. The more traditional-looking elf is associate Eric Garcia. Let's hope the consultant's bash didn't turn out to be a Blue Christmas …
Send any juicy industry gossip to Mr Joseph Aloysius Hansom, who founded Building in 1843, at hansom@building.co.uk