The publication of the construction playbook marks a defining moment for our sector, writes Keith Waller
The publication of the construction playbook marks a defining moment for our sector.
Given the turbulent year we have just faced and the uncertainty which lies ahead, one might ask if this is really the right time for government to embark on such a fundamental root-and-branch reform of how it buys crucial public infrastructure like schools and hospitals? For me, the answer is an unequivocal yes.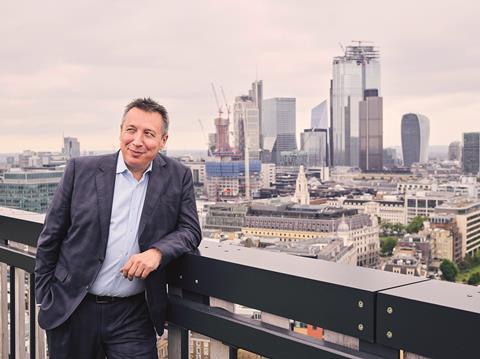 Nine long months of lockdowns and tiered restrictions have brought the construction sector together as never before. Old divisions have given way to a newfound sense of common purpose. Challenges which last year may have seemed unsurmountable are now seen through a much clearer lens. Even before the first lockdown had lifted, we had come together and agreed an ambitious Roadmap to Recovery. We weathered the storm and together, under the steady hand of the CLC, we charted a new course, towards a future rooted in fundamental transformation.
But our newfound commonality of purpose as a sector – significant though it may be – can only take us so far. We need Government to bring to bear its enormous buying power as a client to help us turn our transformative ambitions into a reality. This is exactly what Government, through the new Construction playbook has done today.
Turning ambition into reality
As I read through the fourteen policy priorities in the playbook, I feel a genuine sense of excitement. Excitement not just because of the level of ambition, but because of how ready we are as a sector to make each of these a reality. And of course, publication today marks the start of this journey of implementation - not the end.
The playbook underscores in clear terms the fundamental role that digital processes and technologies will play in ensuring a construction sector fit for the future.
Working closely with the CLC and pioneering leaders across industry and Government over the past year, we at the Construction Innovation Hub have accelerated the crucial parts of our UKRI-backed transformative programme which we knew would be vital for both recovery and transformation.
Our Value Toolkit, formally announced in July, will provide Government clients with the tools and processes needed to embed the Outcomes-Focused Approach mandated by the playbook. The Toolkit will also support the playbook's ambition to ensure that value-based procurement is adopted at an organisational level and driven through a portfolio approach to projects and programmes. Crucially, the Toolkit will also arm decision-makers with the insights and data needed to make better, more informed decisions about the schools, hospitals and homes of tomorrow.
The playbook's ambition to Harmonise, Digitalise and Rationalise Demand will be enabled by our Platform Design Programme, allowing Government clients to create a broad range of vital public buildings from a standardised 'kit of parts' using digitally-enabled Modern Methods of Construction.
The playbook underscores in clear terms the fundamental role that digital processes and technologies will play in ensuring a construction sector fit for the future. The Hub's digital workstream has been working at pace to develop the practical guidance and tools needed to support Government and industry clients in adopting the UK BIM Framework. We are also supporting businesses to standardise their approach to generating, classifying, securing and exchanging data, allowing the adoption of a new Information Management Framework.
Finally, our suite of quality and assurance tools, including Construction Quality Planning will ensure that construction projects are procured and managed in a way that ensures regulatory requirements are consistently achieved and the safety case can be demonstrated at every stage, helping to create the critical 'Golden Thread of Information'.
None of what we have achieved as a programme so far would have been possible without the support and commitment of our industry and Government partners. Despite the disruption and hardship faced by so many over the past year, I've been genuinely astounded by the time and dedication we've received and I would like to say a big thank you to all involved.
Transformation: it's now or never
The Prime Minister has spelled out his vision for Better, Faster, Greener delivery. The playbook, as a compact between Government and industry is the means that will make this vision a reality.
From Net Zero targets, to digitalisation, to a fundamental shift towards outcome-driven approaches, the Construction playbook sets the bar high. Each of us – industry and Government alike – will need to stretch ourselves to focus on its implementation so we can deliver this ambition.
As a sector we are united under the leadership of the CLC with a common sense of purpose. Together with Government, we now have a collective vision for what the future must look like. Transformation has never been more within our reach.
As we look to 2021, I, for one, do not want to waste this opportunity to change our sector for good. It's a change that can - and must - happen.
Keith Waller is the programme director at the Construction Innovation Hub