Next-generation technology and digitalised workflows have the power to revolutionise our industry, but to make the most of their potential we must give up on old ways of thinking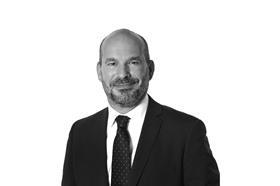 Change is tough in construction. And it is not helped by our continued reliance on well-meaning but disconnected pushes for industry improvement. Such campaigns include attempts to drive better behaviours and collaboration, improve procurement, reform payment practices, increase gender and ethnic diversity, address the skills crisis and move to more of a manufacturing process-led philosophy.
In many ways they represent in isolation no more than sticking plasters, if not combined with a more fundamental redefinition of what we do and how we do it.
The government's announcement last week of the £420m deal to technologically transform the construction industry is certainly a step in the right direction. It will take time to deliver change, but the ambition presented here, in conjunction with the government's own leadership in its capital spend programmes, will ultimately accelerate housing and infrastructure delivery and enable the industry to keep up with the broader demands of a growing economy.
The fact that BIM fundamentally relies on people and different businesses collaborating and sharing data is a real stumbling block to its adoption
While this investment is clearly good news for the industry, it remains the case that most clients that deal with the construction industry do so in the same conventional way they have done for years. Consultants advising on projects and deals reinforce much of this. The same goes for main contractors, subcontractors and suppliers, who struggle to think long term and are stuck in a vicious circle of repeating the same mistakes. Just to add insult to injury, funders and financiers of the construction industry are largely advised by the same cautious consultants who are giving clients advice.
To date, very few have really latched onto the one change agent that can single-handedly tackle all of these issues in one fell swoop – next-generation technology and the impact of increasingly digitalised workflows.
The startling potential of the digital innovation now being aimed at construction is becoming one of the most talked about drivers for change in our industry. And it is now clear that wholesale changes are on the way, whether we like it or not.
BIM adoption has to date become bogged down by the industry's age-old resistance to change. The fact that BIM fundamentally relies on people and different businesses collaborating and sharing data is a real stumbling block to its adoption. It's increasingly likely, however, that this debate will now shift as the power of automated workflows driven by artificial intelligence (AI) and computational science combined with more integrated delivery models will help overcome the deep-seated structural and transactional fragmentation with which the industry is burdened. This is particularly the case as digital design links increasingly to digital fabrication, installation, verification and, ultimately, digital contracts and payments.
The reason I have focused so much on the importance of prefabrication, both in my report Modernise or Die and in my conversations with the industry since, is because it has the ability to promote reintegration as a primary axis of change with fewer parties involved in data exchange, fewer components on site, fewer transactions and less waste and inefficiency. Importantly, prefabrication also has the most to gain from end-to-end digitalisation for everyone, from larger players to SMEs.
Having just returned from the Chartered Institute of Housing conference in Manchester, it is clear to me that the move to offsite housing is picking up steam but risks being hampered by vested interests, financiers, out-of-date procurement models and lack of scale. All this, though, is accelerating the overdue discussion on how we procure differently, embrace digital and have a quality standards-led debate.
The ability to digitally connect design to a supply chain with automated ordering, manufacturing and payment processes – as well as a system that monitors the site assembly and the performance of the asset – has not yet been fully achieved. However, this looks like it's now coming and will probably start in closed, vertically integrated supply chains aligned to specific delivery platforms.
The next phase of this model's evolution will see open sourcing that enables the market to interact with the supply chain at large, increasingly through technology that is not dependent on human interaction, individual behaviour, or personal or corporate trust.
Some of you will be aware of the design code for manufactured housing, on which Cast is working with Bryden Wood for the Greater London Authority. This piece of work, with its origins in Nicky Gavron's 2017 report, Designed, Sealed and Delivered, will be a chance to start to disrupt the usual workflows, at least at the start of projects, through widespread enablement of design for manufacture and assembly of DfMA. We want to see an open-source system that has digital parametric design optimisation and manufacturer supply chain mapping at its heart.
This is the first step to creating a true online marketplace for manufactured buildings. You will hear more about this later in 2018.
It should be obvious to all by now that we will not change our industry by continuing to apply sticking plasters to a broken model. I would urge you all to think more widely and prepare for a more fundamental shift in how our industry operates, driven by the power of technology. This will enable us to be more productive and less adversarial, with processes automated. It will in turn help us attract a wider range of workers, who will engage with digital tools to produce cheaper, higher-quality assets that perform better in use.
Postscript
Mark Farmer is founding director and chief executive at consultant Cast and author of the industry report Modernise or Die