Strategically planned large-scale development is back on the government agenda, but this time it's less eco-town, more leafy suburb. Building reports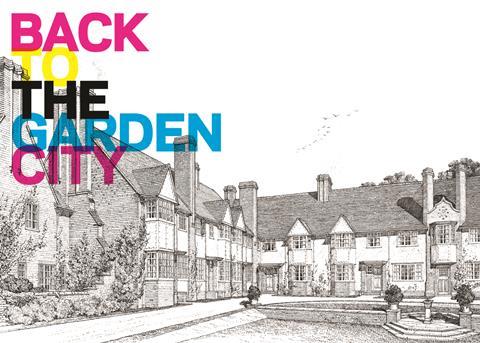 Gordon Brown's commitment to build 10 zero-carbon eco-towns is an announcement that feels like it comes from another age. Indeed the idea could be said to have followed a pretty similar arc to the career of the former prime minister: initially welcomed, very quickly unpopular, and finally overwhelmed by the weight of events.
With the advent of the coalition government, and the credit crunch, most assumed the eco-town dream was dead - killed by a combination of spending cuts and localist planning policies. Yet, against all the odds, work is continuing apace on the four-strong first wave of schemes selected by Brown, with most expected to be on site this year. Even more unlikely, the dream of finding other strategically planned large-scale developments is still alive. Just don't call them eco-towns.
In the next few months, the government will launch a prospectus calling for interest from local authorities in what it has been euphemistically calling "locally planned large-scale development" - a process that will sound eerily familiar to anyone involved in the eco-towns competition back in 2007. There are, of course, big differences, not least that the full support of the local council is a must and that ostentatious eco-bling is not to the fore, but the principle is the same: attempting to solve the housing crisis through a small number of game-changing developments built to an exemplary standard. So why hasn't localism killed off the idea?
Thinking big
The three-word answer to that question is probably Lord Matthew Taylor, the senior Liberal Democrat politician. Author of a 2008 report that recommended strategically planned new developments as the best way to meet housing need, Taylor is undoubtedly influential in government. He says councils are seeing that the best way to fight local housing shortages is by identifying one large area for development, rather than wage many smaller battles with anti-development campaigners over often sensitive infill sites. "The current system has delivered, in small numbers, the kind of development that people don't like, in the places most valuable to them," he says.
Taylor, who also chairs the firm set up to deliver the St Austell and Clay Country eco-town in Cornwall, has kept in touch with ministers and officials on the issue, and says he was "delighted" to see the section on large-scale development in the autumn housing strategy. He is now pressing for official recognition of it in the long-awaited National Planning Policy Framework (NPPF), due in March. "There's an opportunity in any area to have one big debate instead of endless small ones," he says.
But it's not only the battle against nimbyism that is provoking renewed interest in the idea. While targets for housebuilding have been abolished, the government has committed itself to increasing housebuilding. Terrie Alafat, director of housing growth at the communities department, said last week that the prospectus will be out shortly. "We haven't named this [initiative], but we know that in order to address the supply problem we need to do some of this [large-scale development]," she said.
Developing big sites is also being seen as a way to pay for infrastructure that couldn't otherwise be funded, with one example being the Rackheath eco-town outside Norwich, which is likely to make a contribution to a much-needed bypass of the city. Taylor says: "This route offers the way to deliver the kind of infrastructure that is difficult to achieve in these times."
Architect Wendy Shillam, until December an adviser to the Whitehill Bordon eco-town in Hampshire, agrees: "I don't know a local authority that isn't interested in this. All of them are looking at their housing problems and saying, 'We need a better way of dealing with this.'"
'Familiar and comfortable'
But if the idea of attempting the construction of new settlements is being considered again, it doesn't necessarily mean that eco-towns, as articulated by Gordon Brown, are back. The original idea was that eco-towns had to be new, stand-alone settlements of at least 5,000 people - large enough to create their own independent economy. However, much of what is now being discussed are urban extensions, or, in the case of St Austell, a series of smaller linked settlements.
The furthest ahead is probably North West Bicester in Oxfordshire, where the council has given resolution to grant planning permission for the first 393 homes of a 5,000-home urban extension. Housing association A2 Dominion plans to start on site in the summer, once the section 106 agreement is signed, with homes designed by Terry Farrell and Partners, as part of a wider consortium. Steve Hornblow, development manager for A2, says the key will be developing homes that are familiar to potential residents. "We're moving away what's been done in the eco-home pilots, to something that can be mass-produced."
With the detailed planning guidance that went alongside the eco-towns competition set to become defunct later this year after the introduction of the NPPF, many are now looking for a less technocratic inspiration for new communities: the Hertfordshire garden cities of Letchworth and Welwyn. David Birkbeck, director of Design for Homes, is involved in the Rackheath eco-town. Here the consortium, which includes Barratt, is about to launch a design competition for the 200-home exemplar phase of the scheme. He says the garden city reference is important. "One of the things the founders of the garden city movement said was that change should be made "familiar and comfortable". These are the concepts we're asking architects to include in our work on Rackheath," he says.
Housing minister - and Welwyn's MP - Grant Shapps has spoken of his respect for the garden city movement, and influential planning charity the Town and Country Planning Association is backing the push, with research and events tabled for this year. Chief executive Kate Henderson says: "The garden city principles [of design and ownership] are important if you want to enable housing growth in a meaningful way."
Shillam agrees. "Anything that gets us away from gizmo eco has to be a good thing. A few objectors to Whitehill Borden said they didn't want to end up like Milton Keynes - but no-one said they didn't want to end up like Hampstead Garden Suburb (pictured here with designs from 1909)."
The influence of garden cities may also show that any new green settlements are likely to focus more on being leafy than on stopping global warming: with planning regulations requiring all new homes to be zero carbon within five years, the government's strategy doesn't explicitly mention sustainability. This is another big change -the idea of the original eco-towns was to promote a new way of living. Ian Tant, director at planning consultancy Barton Willmore, says: "The real emphasis on sustainability is missing from this push."
And while all seem pleased to see that strategic development is back on the agenda, this is a concern that may stick.
The first time around …
Initiated in 1898 by Ebenezer Howard, garden cities were intended to be self-contained communities surrounded by parks, with homes, industry and agriculture. Letchworth was designed from 1904, while land was bought at Welwyn in 1919. Famous for their arts and crafts designs as well as their egalitarian ideals, they inspired garden suburbs in London and Essex and influenced the planning of cities around the world.
The new plan
The government has said it will run a competition to promote the development of a "wave of larger-scale projects, including on brownfield sites, where there is clear local support and private sector appetite." It has said it will prioritise those proposals that set out ideas for collaborative planning, and "are a good fit with national infrastructure networks."
Those looking at new settlements include:
Bournville Village Trust, Midlands
Fareham council, Hampshire
South Cambridgeshire council
The original eco-towns
The four sites with the go-ahead are: