With Gove gone, architects sniff better days ahead, the revolving door of planning ministers takes another turn, a former Kier boss makes a speedy, if unadventurous, comeback, and JCB digs 18 more holes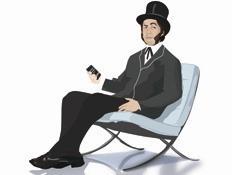 Marriage of convenience
Architects working in education have become used to austerity era schools under the auspices of now reshuffled education secretary Michael Gove, but it's fair to say the pressure for pared back design hasn't always proved popular with the profession. So could Nicky Morgan, Gove's replacement, offer hope of a slightly less spendthrift approach? Well, she is certainly in a position to hear designers' views: her husband, Jonathan Morgan, is an architect who spent 16 years at Archial before becoming a consultant. Archial has an established record of school building work - as well as particularly painful memories of the Gove-era cuts. Back in 2010 the company collapsed into administration (before being bought out by current owners Ingenium) - and chief executive Chris Littlemore attributed its collapse partly to the coalition's cancellation of schools and academies projects.
Ins and outs of planning
There was good news in the reshuffle for planning minister Nick Boles, who memorably said "shoot me if I'm planning minister after the next election". Luckily for Boles, he has dodged a bullet by offloading the planning brief nine months out from the election, securing promotion to a role straddling the business and education departments. Newly-appointed communities department minister Brandon Lewis takes on the planning brief, as well as the housing brief. It is not yet known if he is as thrilled about the planning role as his predecessor.
And now for something completely similar
Also starting a new chapter is former Kier chief executive Paul Sheffield, who has resurfaced after leaving Kier at the end of last month. Laing O'Rourke announced last week that Sheffield will be joining them as managing director of its Europe Hub in October. This news has raised a few eyebrows. Is this the same Sheffield who heavily hinted in February he would move to a role outside of construction, saying it would be "exciting to try your skills at something completely different"? He had added for good effect: "When you've worked for the best construction company, what else can you do?" The answer, it appears, is to work for another construction company.
Par for the course
Not satisfied with ruling the world of moving earth from one place to another, JCB has launched a new venture - developing golf courses. The digger giant has won planning approval to build a
£30m tour-quality golf course on 240 acres of countryside to the south of its global headquarters at Rocester, Staffordshire. JCB claims the 18-hole, 7,150 yards, par 72 championship golf course will "boost sales and build global awareness of its brand". I suspect the attraction of being able to play a round of golf next door to the office may also have been a factor in their decision.
Charity begins at home and abroad
Construction firms are a charitable bunch. A group of management trainees from Willmott Dixon have donated £70,000 of time and materials to revamp a youth centre and adventure playground in Stockwell. Meanwhile contractor Seddon has chosen Homeless International as its charity partner and is aiming to raise £10,000 to help develop social housing in 16 developing countries. Seddon employees will also lend a hand to the charity's project to build 279 homes in Pokhara, Nepal. Hats off to all involved.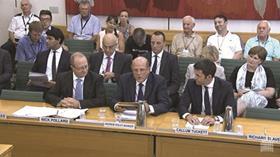 Taking an oaf
Construction bosses at Balfour Beatty, Laing O'Rourke and Vinci UK got a rough ride in front of the Scottish Affairs Select Committee last week, as MPs again heard evidence as part of the inquiry into blacklisting. This time the focus was on the scheme set up to compensate blacklisting victims. The tetchy tone of the session was set early on, when an MP challenged Andrew Ridley-Barker, Vinci Construction UK managing director (pictured, centre), over his recitation of the witness oath. Ridley-Parker: "I swear by almighty God that the evidence that I shall give before the committee should be the truth, the whole truth, so help me God" - which of course omitted "nothing but the truth". Ridley-Parker was asked to recite it again.