The sandwich board men might be right this week, as we see Donald Trump affecting house prices, aircraft thronging the skies, sinister signs, beloved pubs being demolished and it's even raining in CGI images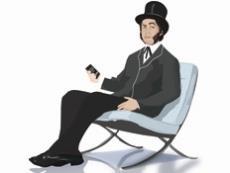 Trump's walls
With the US election too close to call as Building went to press, the wags at London estate agents Thorgills decided to find out the winner of a different Trump v Clinton contest. They've crunched the numbers on UK house prices, and it turns out over the past five years, average property prices on streets with "Trump" in the name have increased in value by 37.9%, compared with a 27.2% boost for streets with "Clinton" in the name. The biggest riser? Average property prices in Trumpington Road in Waltham Forest have increased 56.6% in five years, to £361,583. See, there's much more at stake in this election than just truth, democracy and liberty.
Good pub-licity
Differences over sport notwithstanding, the English and Australians are coming together, I see, over pubs. Last April, a public house in Westminster called the Carlton Tavern was knocked down when it shouldn't have been. The council served an enforcement notice on the developer telling it to rebuild it "brick by brick". A few months later, and 10,000 miles away, the Carlton Inn in Melbourne suffered the same fate - with the same result. Authorities there are telling the owners to rebuild that pub as well. Westminster's deputy leader Robert Davis says: "I hope that when both of these historic pubs are rebuilt they will stand as a symbol for the power of local communities to stand up for the special heritage of their much-loved public houses." I'll drink to that.
Wet wet wet
Developers are often accused of glamming up their schemes when sending out press gumpf. So I was rather surprised to be greeted with a CGI – that's a digial image of what the scheme is supposed to look like to you and I – that didn't show the standard-issue perfect blue sky and the sun beating down. The picture was to accompany a recent design gong won by architect JTP for a housing scheme, and showed slate grey skies, homes by a spray-drenched waterfront and rain hammering relentlessly down. The winning design is called "A Home for all Seasons". Glad to know JTP chose the British summer for its image, then.
Off the map
Lumiere Developments, a revolutionary developer, the PR puff says, is busy promoting the green credentials of a 17-storey tower it is planning. Except it wasn't the bits about solar photovoltaic panels and ground source heat pumps that caught my eye, as impressive as that it is. No, it was where it is being built. "Located in Hemel Hempstead, just 24 minutes from London Euston …" I look forward to future "London" developments appearing - perhaps in Cambridge (just 46 minutes) or why not Cardiff (just 126 minutes) …
Flying visit
The Duke of Edinburgh was visiting the University of Hertfordshire recently, which was celebrating the opening of its new science building. Built by Bouygues and designed by Sheppard Robson, the duke's visit last week was the fourth time he's been to the Hatfield campus following previous visits in 2003, 1997 and way back in 1952. I'm told his latest visit was rather more low-key than 1997 when the duke unveiled a bronze statue of aviation pioneer and aircraft engineer Sir Geoffrey de Havilland. That prompted a fly past of 40 - count them, I say - de Havilland aircraft in tribute.

Sign of the times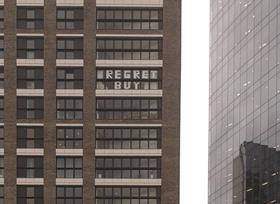 We've heard about buyer's remorse and here it is in all its glory. An architect friend of mine was wandering past one of those high-rise developments going up in the Aldgate area of east London recently. Imagine his surprise when he looked up and saw this sign taped to one of the windows. I'm struggling to identify which development our mysterious (and presumably crying) homeowner is talking about but I'm tempted to say that it's not a huge surprise given they all look the same …
Send any juicy industry gossip to hansom@ubm.com