This week has been more like a Hollywood film than a week in construction - Arctic exploration, bombs in the desert, gratuitous nakedness and a case of mistaken identity. Popcorn, anyone?
It's snow time
As QSs are often keen to tell you, surveyors are having to develop diverse skills in order to survive. But to the best of my knowledge few have yet turned their hand to Arctic exploration - until now. Matt Schaaf, a QS by training and a project manager at Jones Lang LaSalle, has set his sights on a "world first" research expedition in February to one of the last unexplored areas of the Arctic. The intrepid consultant will assist a team of experts conducting climate change research and will also visit the North Pole or "Northern Pole of inaccessibility". Schaaf tells me his QS training will stand him in good stead "in terms of planning, covering risk and attention to detail". Building wishes him luck!
Indecent green proposal
How excited are you about the Green Deal? The government's home retrofitting scheme - which stands to create an estimated 65,000 construction jobs - certainly could be a welcome boost for the industry. But a few eyebrows were raised on the Building newsdesk when the magazine received an email from a well-known construction PR entitled "Sex tests for the Green Deal". Not two things you'd expect to hear in the same sentence. The PR - whose blushes I shall spare - was quick to apologise for her "Freudian typo", which actually should have referred to the number six.
Explosive cladding
Who says specialist contractors are boring? It turns out global cladding giant Permasteelisa - the specialist behind the exterior wall of the 310m tall Shard in London, enjoys a bit of pyrotechnics. Bert van de Linde, research and development managing director at the firm, enthusiastically described to one of my hacks a number of spectacular experiments to test the bomb-proofness of its curtain walls in a deserted Scottish quarry and the Nevada desert. Van de Linde, who helped organise the big controlled-explosions, described the experiments as "very exciting".
A wise crack
I was pleased to read this week that construction workers are starting to buck up their ideas when it comes to smartness. A survey of over 13,298 workers by workwear provider Alexandra found that a whopping 94% of respondents were consciously dressing better to create the right impression with clients during the recession. It appears the builder's bum could soon be a thing of the past, which may disappoint some.
Missed connection
It can be tough keeping track of the latest fortunes of the UK's various starchitects, but you'd think the Financial Times would be able to differentiate between architecture's two most famous Brits. A prominent picture caption on a giant piece on page two of last Saturday's FT wrongly attributed Lord Foster's vision for a £50bn airport and transport hub in the Thames estuary to another world famous architect and septuagenarian - Lord Rogers.
Quite a tool box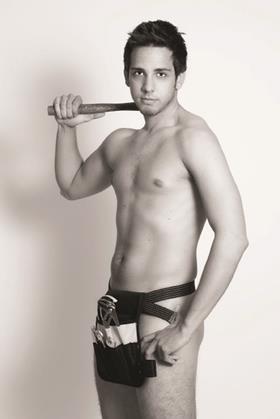 Barely a month after this column featured the near-naked employees of Essex-based contractor Mullalley comes another construction firm keen to strip off in aid of a charity calendar. This month's daring employees hail from Union Square, the software firm. Contrary to what you may think, this column rarely receives pictures of near-naked employees, but clearly October's exposé has sparked some competition - the men and women of Union Square have been rather creative, with entries featuring the strategic placement of tool belts and chainsaws … Calendars are on sale now for £10, with proceeds going to homelessness charity Framework. To buy a copy email elena.bronnert@unionsquaresoftware.com.