It's all a bit confrontational this week as Giles Coren offers his opinion on the Shard and David Lock takes on Nick Raynsford… let's hope Sir John Armitt finds more satisfaction in his role as wedding planner
BoJo blunders
Mayoral candidate Boris Johnson was on slightly unsure form at the National House Building Council's entertaining housing hustings last week. BoJo made a series of un-planned commitments, including over the private rented sector and re-naming his housing division as "Homes for London". He also seemed unaware, when asked to say when his housing manifesto was coming out, that he'd already published a series of commitments on housing policy within his "Growing the London economy" manifesto. Most entertaining was his confirmation - denied by Crossrail at the time - that the coalition had considered canning the project. "We rescued Crossrail. It would have been chopped by the Treasury," he trumpeted. He was also unable to contain a dig at one of his erstwhile Conservative colleagues: "We rescued it from the jaws of death, otherwise known as George Osborne." Miaow.
An Olympic marriage proposal
With his role at the Olympic Delivery Authority coming to an end, it's hardly surprising that chair Sir John Armitt is looking for alternative employment. Last week he described the Olympic basketball arena as "a big marquee" and proceeded to offer it for hire to delegates at EDF's TalkPower conference, saying: "If any of you are planning a wedding…" Perhaps the former contractor boss has got a taste for the events business in general and is eyeing a new career as a wedding planner.
A tern for the worse
Last week's Alan Cherry memorial lecture, organised by this magazine in partnership with Countryside Properties, was enlivened by planning consultant David Lock at his acerbic best. In a debate on design quality, Lock took issue with fellow panellist Labour MP Nick Raynsford. Raynsford suggested the government should follow the example of Greenwich Millennium Village, developed under the last government, and where he just happens to live. The MP praised the scheme's low heating bills and remarked that the nature reserve had even attracted the odd Arctic tern. Lock, who claimed the scheme had been too costly, was having none of this, saying the site might have been better off left to the terns, rather than the "highly subsidised" people who live there.
Don't leave any Gleeds bills unpaid…
QSs don't have a reputation as the most exciting bunch. But is this deserved? A tweet from global QS Gleeds chairman Richard Steer could help dispel the myth. Steer was amazed to discover his firm counted a Qatari cage fighter, Indian national dance champion and Hungarian Olympic swimmer among its staff. A cage fighter could certainly prove useful if there are any outstanding bills to chase. I know who I'd send around to collect.
Cover's strong point
It's not every day you get two of the world's strongest men pop in to your workplace to break a world record. But that's exactly what happened at builders' merchant Covers in Horsham this month. Current and former UK Strongest Man Ed Hall and Glenn Ross visited the firm's HQ to lift an astounding 25 bricks each - beating the world record of 24. I think I'll just stick to the weights in the office gym.
Shard hitting comments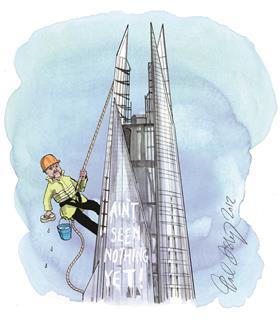 The Shard has its fair share of critics, and not least Times columnist Giles Coren, who recently called the tower a "tawdry insult to Christopher Wren's capital" and likened it to "a stupid fleck of glass, like a thing for monkeys to worship in a sci-fi film"; "a middle finger flipped at every Londoner for miles around"; and, perhaps mostly surreally, a "loveless, artificial, Viagra-stiffened old tool of a corpulent foreign businessman nailing some poor derelict to a brothel mattress to assuage the boredom of a business trip to London". Quite a mouthful. But none of this bothers Shard project manager Bernard Ainsworth. "They ain't seen nothing yet," he chuckled recently. "Wait until the glass is cleaned. It'll be brighter and bolder still."