On this week's menu, an architect's in the back of Burger King, Next is on the warpath, a Hansom hack is all at sea, and Boris smells something fishy. Plus, rappers and runners are here to inspire us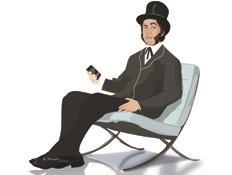 Eat in or takeaway?
Firms are ever-more conscious about the impression their offices make. It's often the entrances that get the most attention, with echoing spaces, marble and chrome setting the rather dull standard. So visitors to start-up architecture practice Bowden & White's Leicester Square office will notice a bit of a difference. You access the studio through a door in the back of the famous square's Burger King. Co-founder and former Foster + Partners and Make partner Simon Bowden says "most clients love it". Also dead handy if you fancy discussing development plans over a Whopper meal, I imagine.
Hello, sailor
I'm pleased to report that the reunion party for the Little Britain Challenge Cup - the construction industry's annual charity regatta – was well attended and even better catered for with Pieminister pies all round. However, my trusty reporter was less pleased to find after a couple of beverages that he was agreeing to crew one of the boats in this September's race. The hack in question has absolutely no sailing experience and a questionable set of sea legs. Please accept my apologies in advance should you find yourself on a boat crewed by him in the middle of the Solent.
There will be a Next time
Results statements are normally very bland, but not that of clothing retailer Next, which last week launched a stinging rebuke to local government in its update to the City. In its results statement, the retailer said that in its dealing with local councils, it was noticeable that some were more pro-growth and pro-jobs than others. "Many local councils are enthusiastic and efficient; but a few remain an unhealthy mix of Luddite intransigence and incompetence," the statement said. "Going forward, in areas where councils traditionally have got away with just saying 'no', we will be more active in harnessing the law." Planning officers be warned.
He's a funny fish
Hansom was lucky enough to visit a fish factory in London's East End last week. It sounds unglamorous, but the fish was smoked salmon and the factory was the fancy Forman's Fish Island, which is the closest venue to the London 2012 Olympic stadium. It was here hordes of media types descended to hear about West Ham football club's move to the stadium in 2016. In attendance were club owners David Gold and David Sullivan, players including Joe Cole and Carlton Cole, plus club and World Cup legend Sir Geoff Hurst. As usual though, all eyes were on London mayor Boris Johnson, who welcomed the hacks to "this great temple of salmon".
Keep on running
Finally, you may recall we brought you the news that Building's news editor Allister Hayman will take on the London marathon this year for learning disability charity Mencap. We can now report that, after a sluggish beginning, he has been training hard - even braving the ridicule of colleagues by running to work three days a week in jogging tights. Indeed, flushed with his new found purpose, Allister has set what we think is a very ambitious time of completing the marathon in three and a half hours. You can help with Allister's fundraising at: www.justgiving.com/AHayman
Where is the love, Barry?
Could Black Eyed Peas rapper Will.i.am inspire a generation of engineers? Barry Clarke, president of the Institution of Civil Engineers, thinks so, following the musician's speech to the Science Museum. Will.i.am said subjects like science, technology, engineering and maths (STEM) are a "powerful tool" to encourage the young and that a £500,000 donation he made to the Prince's Trust would boost teaching in these areas for disaffected children. Clarke praised Will.i.am as "a figure known worldwide mainly for his rapping" who "makes the case for youngsters to engage with STEM subjects". Hansom salutes Clarke's enthusiasm but is a bit disappointed he didn't come up with his own rap to big up his idol.