Ken Shuttleworth's imagination runs wild, Ecobuild punters condemn Eric Pickles to an Orwellian nightmare, Ian Tyler bows out in style and Otto the dachshund is deselected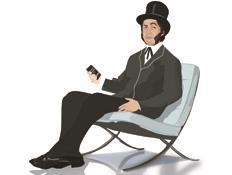 Multiple mixed metaphors
There are many metaphors we can use to try and make our industry seem more exciting and the ever creative Ken Shuttleworth, founder of Make Architects, pretty well exhausted them in a speech at Ecobuild last week. Within two minutes the industry went from being a boxing match between contractors and architects, to a relay race with contractors and architects on the same team, to a group of worker ants and finally to a team of rowers. Shuttleworth then pulled it all back to sensible territory with his likening of Building Information Modelling to a layer cake, which was, of course, completely self explanatory.
The horror!
Elsewhere at Ecobuild things took a slightly more sinister tone, when members of the audience at one session were asked to vote on who they would like to see consigned to the Room 101 (the fictional torture chamber of Orwell's 1984, where prisoners are confronted with their own worst horror). There was stiff competition, with Daily Mail editor Paul Dacre and education secretary Michael Gove early front runners, before both were ousted by communities secretary Eric Pickles, due, not least in part, to his abandoning of the roll out of Display Energy Certificates and the so-called "conservatory tax". Suggestions as to what his worst nightmare may be are welcome …
Job well done
Analysts' presentations on contractors' results day are normally staid affairs, but not so last week, when Balfour Beatty presented its full year results. It was chief executive Ian Tyler's last occasion in the hot seat and as proceedings came to an end one analyst stood up and applauded the out-going boss. "There have been some real highs in Ian's time, from winning work on the London Underground PFIs to the lows … of having won work on the London Underground PFIs," he quipped, to a roar of analysts' laughter. "There's been some great analysts trips along the way, including Disney's Animal Kingdom," he continued, "I can't quite recall what the message was on any of these trips, the time at the bar helped with that … but I just wanted to say you've done a great job Ian." Hear, hear.
Delhi belly
Last week's pre- Budget press briefing by the CBI was noticeable for the absence of hard-working director general John Cridland, who normally leads at such events. Cridland was apparently laid low by a bug during his recent trade mission to India with David Cameron. The bug is apparently still troubling him two weeks later. It's good to know he is going the extra mile, even risking his health for the sake of British business. But I hope that he, Cameron, and the other titans of British industry that went with them didn't all eat at the same restaurant or the economy could be in even more trouble.
Lost at Battersea
The race to build phase one of the Battersea development, comprising of 800 homes, may be under way but behind the scenes specialists are working just as hard to salvage the iconic power station itself. News last September that the Malaysian consortium behind the £8bn scheme planned to demolish the Grade II* listed building's crumbling chimneys and replace them with replicas was not well received. I've learned a specialist firm has now been drafted in to see if the concrete chimneys and their steel bases can be chemically treated to reverse corrosion and save them. A source says he's hopeful it can work, but the decision may come down to cost.
In the dog house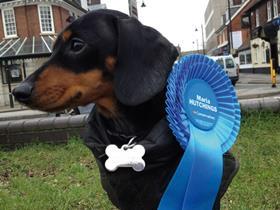 Energy minister Greg Barker's dachshund has become something of a star of these pages. But alas, could this be his last mention for some time? Otto was noticeable by his absence at Ecobuild when his minister toured the site, and word has reached Hansom that his schedule of public appearances may have been seriously curtailed. Apparently senior Conservatives were a little concerned at his frequent appearance in the papers' coverage of the Eastleigh by-election campaigning. Surely the Tories' loss is not being pinned on poor Otto? It's a dog's life.
Send any juicy industry gossip to hansom@ubm.com