Though life's no bowl of cherries for construction, our resilient colleagues have been going bananas on the 2012 site, tapping away on BlackBerries and spilling raspberry juice over a top chef's kitchen
Quick off the blocks
Ever since Bovis Lend Lease lost the exclusive right to build the 2012 athletes' village and was forced to tender half to other contractors, there has been a healthy tension between it and the tier one contractors working for it. I understand this intensified recently, with Ardmore and Bovis racing to finish their respective adjacent block first. This burst of speed is good news for David Higgins, the chief executive of the Olympic Delivery Authority. And he must be pleased he ended Bovis' monopoly, especially as the other contractors are understood to have shaved up to 25% off its price.
… and it's naturally ventilated
Staying with the Games, word reaches me of another chapter in the controversy over what on earth the international broadcast centre will be used for after 2012. This building is enormous - bigger than the Canary Wharf tower laid on its side, so something will have to be done with it. Problem is, it will only have air-conditioning during the Games. After that, the units will be ripped out, leaving not only an un-air-conditioned building, but also one with big holes in the walls, meaning it won't be entirely weatherproof, either. Sounds enticing for a prospective occupier.
Why I don't like Saturdays
The first birthday of the Transformation Trust was marked last week with a party at the O2 - an afternoon of music and urban street dance to celebrate the opportunities new school facilities can offer young people. The place buzzed with hundreds of excited children but the corporate boxes were strangely empty. In fact, the assembled contractors, consultants and architects were eventually located sitting in the corridor, typing on their BlackBerries. Admittedly girl band The Saturdays and grime rapper Tinchy Stryder are probably not on many industry professionals' iPod, but I suspect what had really dampened their enthusiasm was the recent cancellation of more than 700 BSF projects.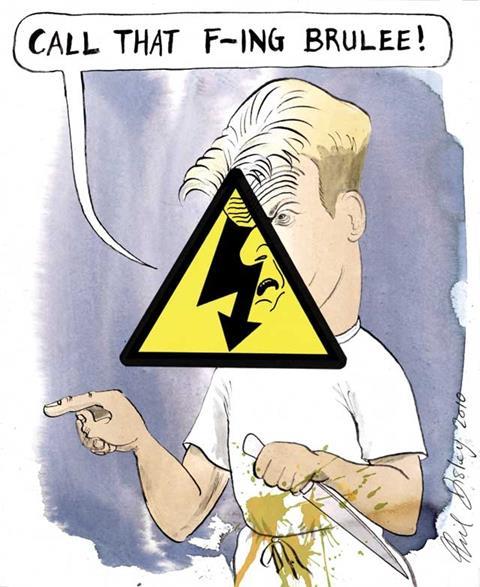 Kitchen nightmares
The Electrical Contractors Association really pulled out all the stops last week for an eight-course lunch for the press at the chef's table at Gordon Ramsay at Claridges. All was going well until some bright spark (pun intended) decided that after seven courses and as many bottles of wine, all diners should venture into the kitchen to decorate their own desserts. Out of four plates of pudding, two creme brulees ended up on the kitchen worktop, one leaking raspberry jus all over the floor and another in three pieces after a failed attempt to reposition it artistically with spatula and blow torch. It was a good job Ramsay himself wasn't around. I am sure he would have had a few thoughtful words of advice.
Big win for construction
Well done to adjudicator Matt Molloy of MCMS, who won the recent King Sturge Property Triathlon in the male category. Jonathan Cope, director at the same firm also put in a respectable performance, coming 656th (which is better than it might sound, as it was out of 1,168). MCMS emailed us to spread the good news, adding that with BAM winning the corporate event too, the construction sector had thoroughly bested its property sector rivals. Good work, chaps …
Circular logic
There's nothing worse than a circular letter is there? So when one's professional body, whether it's the RICS or the RIBA, sends an email, it's always nice if it comes with a personal touch. The Architects Registration Board overstepped the mark recently, however, by emailing members addressing them not only by their first name, but by their middle name too. They had the decency to send another email apologising for the gaffe, though - formally addressed using surname and the appropriate title, of course.
Send any juicy industry gossip to hansom@ubm.com