A former England cricket captain trades in his knee pads for the world of property management, Paddington Bear braves a makeover from Zaha Hadid, and Santa is given the big heave ho-ho-ho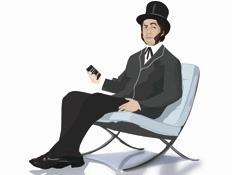 Winter blunderland
Regrettably, the builders are often the fall guys when things go wrong, even at Christmas. Visitors to a "winter wonderland" Christmas attraction designed by TV's Laurence Llewelyn-Bowen in Sutton Coldfield were left feeling decidedly unfestive when it opened last weekend. The fairground-cum-santa's grotto closed down after only a day following a flood of complaints about long queues and "cheap" plastic toys. Organisers said the venue was not ready on its scheduled opening day, Saturday, because bad weather had set back construction. Punters were offered their money back and the site was scheduled to reopen within days. One visitor said her sons, aged seven and three, had been left bored waiting with "chav elves" as builders walked around the site smoking.
Songs for the road
Apparently 92% of van drivers in the UK regularly sing along to music while behind the wheel on the job, according to highly credible research sent to Building by a business insurance website. The most popular van sing-along song is, apparently, Let it Go, the hit song from the Disney musical Frozen. This is followed by Happy by Pharrell Williams and Rolling in the Deep by Adele. There was, however, no mention on the official van chart of Van Morrison or Van Halen. Disappointing.
Back to black
After six years working on a book on the blacklisting scandal in construction, anti-blacklisting campaigner Dave Smith and journalist Phil Chamberlain have announced they have parted ways with their publisher. In a statement last week the duo said their contract with Pluto Press to publish Blacklisted: The secret war between big business and union activists had been "terminated by mutual agreement". The pair are now looking at other publishing options and say they are "100% confident" the book will be published before next year's general election.
A new test
Leadership qualities are highly sought after in construction and property. But few firms have gone headhunting in the world of sport to find these skills. However, Manchester-based property management firm Capital Properties has announced it has hired former England cricket captain Michael Vaughan as a non-executive director, to guide on leadership and development at the company. Vaughan, best known for captaining England between 2003 and 2008, during which time our boys reclaimed the Ashes after 18 years, acknowledged that "people often overlook the property management sector". Reports that the firm will now be breaking for tea every afternoon are unconfirmed.
Engineering change
The Institution of Civil Engineers (ICE) has revealed it has attracted donations totalling £1m for its Shaping the World appeal, which aims to bring together the greatest civil engineering minds across the world to tackle major challenges such as population growth and climate change. The appeal, launched last October, will use the funds for a global education programme for civil engineers and to transform its central London headquarters into a "worldwide home of civil engineering". Through the appeal, the ICE is also aiming to influence policy: one example is its report into low carbon living in Hong Kong beyond 2030 which it intends to present to the Hong Kong government. For more information visit shapingtheworld.org.uk.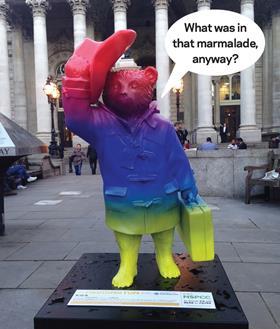 Bear hunting
Architects Zaha Hadid and Robin Partington & Partners have designed Paddington Bear statues as part of a charity promotion to coincide with the release of the film about the famous bear with a penchant for marmalade sandwiches. The Paddington Bear trail, organised by children's charity the NSPCC, features more than 50 statues of the bear from Peru across London, with others designed by pop stars and actors. Hadid's Paddington (pictured) is titled RGB and is sponsored by demolition contractor Keltbray, while Robin Partington's is called Brick Bear. For more info, and a map of the bears, go to visitlondon.com/paddington
Send any juicy industry gossip to hansom@ubm.com