This week, contractors go the full monty for a charity calendar, a boss is not amused by the 'Lunch Atop Heron Tower' photo and the hot seat at Mouchel proves too much for two chairmen
Contractors laid bare
There have been many exposés in the pages of this magazine but I believe this could be a first … Meet "Mr January", the brave (some may say, foolhardly) Bruce Benson, operations director of Essex-based contractor Mulalley. He and eleven of his staff have ditched their high-vis gear and steel toe-capped boots to pose for a "Calendar Boys" style calendar, to raise money for Children in Need. The calendars are on sale for £10 and you can order yours from amy.baines@mulalley.co.uk.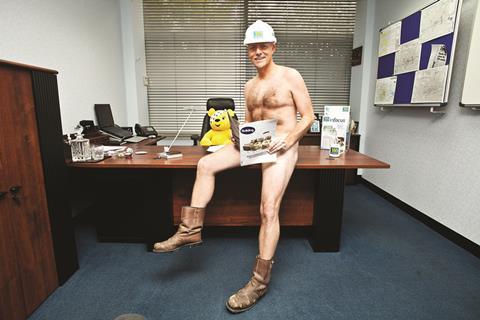 Planning to lie low
Last week's Home Builders' Federation-run market intelligence conference was, for the first time in years, not addressed by a senior government minister. I understand housing minister Grant Shapps had been due to attend but pulled out. While Shapps was attending a laudable anti-homelessness initiative at the time, some suspect that his failure to show was more to do with the presence of the Campaign to Protect Rural England and a big debate on planning at the conference. It hasn't gone unnoticed by the industry that the minister has been all but invisible during the planning rumpus. Surely his absence is not down to an unwillingness to be associated with the National Planning Policy Framework controversy?
Union solidarity
As it comes to light this week that an investigation is under way into alleged abuse of expenses at union Ucatt, it seems a good time to lift the lid on other intriguing uses of union funds. Building has seen a document detailing some of the political donations made by Ucatt in 2009. Among these are donations to left-wing causes such as the Cuba Solidarity Campaign and the Venezuela Solidarity Campaign - which were each given £200. We're at a loss as to where Cuba and Venezuela fit into construction workers' concerns - but it appears the union is still waving the red flag.
Meeting the briefs
What has UK architect John Pawson got in common with fashion label Calvin Klein? Quite a lot it seems if an exclusive dinner held last week at the former Commonwealth Institute building in Kensington is anything to go on. Pawson is converting the building into a home for the Design Museum and designed the brand's flagship store in New York. Malcolm Carfrae, Calvin Klein's executive vice president of global communications, gushed that Pawson's "overall aesthetic epitomizes the Calvin Klein design ethos." I'll be sure to dig out my CK Y-fronts for my first visit.
High stakes
Bah humbug of the week goes to steel specialist Severfield-Rowen, which is rumoured to have slapped the wrists of workers who shuffled across a beam high above the City of London during the construction of the Heron Tower, in an attempt to recreate the famous "Lunch Atop a Skyscraper" photo taken in New York in 1932. Steel worker Mike Crompton has claimed none of the workers were in danger, being clipped in and in reality only 12ft above the floor below. Severfield-Rowen chief executive Tom Haughey gave a stern "no comment". Draw your own conclusions.
Musical chairs
To lose one chairman might be considered unfortunate, but to lose two in the space of a week - well that's just carelessness, isn't it? Alas this is the situation troubled consultant Mouchel finds itself in, after David Sugden resigned on Monday, after just three days in the post of interim chairman. Sugden only took on the role after former chairman Bo Lerenius was forced to move sideways to cover the responsibilities of chief executive Richard Cuthbert, who resigned last Friday. Is this the shortest tenure of chairman ever seen in construction, Hansom would like to know? Answers on an email please …