This week, Crossrail has some fighting talk for Bam Nuttall, West Ham's owners get excited about their Olympic stadium bid and Foster's team battles more opposition in its quest for a South-east airport
Fantasy football
The bids for the legacy use of the Olympic stadium are now all in and, it would seem, West Ham's co-owners, the adult entertainment entrepreneurs David Gold and David Sullivan, wanted one last peek at the stadium before re-submitting their offer. The erstwhile publishers of Hardcore Housewives were spotted wandering around the stadium just last month. Hansom's spy said their Rolls-Royce was parked, not so inconspicuously, outside Pudding Mill Lane station. The two Davids were then spotted inside the stadium, looking rather pleased with themselves. What could have put them in such high spirits?
Looks deceive
There were some bemused readers in the QS world last week upon reading Building's interview with new Davis Langdon boss Bob Pell, which pitched him, on the front page, as a "hard man". Not so, his consultant friends told me. In fact, Bob is something of a softie. "It's only because he's shaved his head that he gets this reputation," one QS pointed out.
Blocking the flight path
First it was the potential threat of "bird strike" from thousands of estuary birds, now it's angry air traffic controllers. Norman Foster's proposed four-runway Thames Hub airport is barely off the drawing board, but it has had to deal with a number of challenges from detractors. The latest is from Richard Deakin, chief executive of Nats, Britain's air traffic control service. He told the Guardian the proposed Thames estuary location of Foster & Partners' and Halcrow's scheme was the "very worst spot" for an airport within the South-east's congested airspace and said the firm had not contacted his organisation beforehand to discuss its feasibility. Two members of Foster's project team have since met with Nats, the architect said. But the odds of the airport ever getting off the ground seem to be lengthening.
Dark future
Hong Kong is consulting its citizens on whether or not it should expand the densely packed metropolis underground through a system of man-made caverns. Any citizens who are less than thrilled by the prospect of subterranean living and working may be relieved to hear the caverns are designed to house some of the city's more unsightly facilities, such as sewage treatment plants, and fuel storage depots, at least at first. But it sounds like a slippery slope to me.
Rail fights back
Construction is famous for its rivalries between firms. But the latest clash this June will be an altogether more friendly affair, as construction firms including Bam Nuttall, Enterprise and Mouchel take part in the CARE Construction Challenge - a charity event which pits firms against each other in running, kayaking and cycling over the distance of a marathon. A team from Crossrail - made up of Network Rail and Bechtel employees - is the latest to enter the fray, and they mean business. Team leader Geoff Hancox has thrown the gauntlet down to last year's winner Bam Nuttall: "We saw the event advertised and thought: we can beat Bam Nuttall to the trophy!" Visit www.carechallenge.org.uk/constructionchallenge for more details.
Changing their colours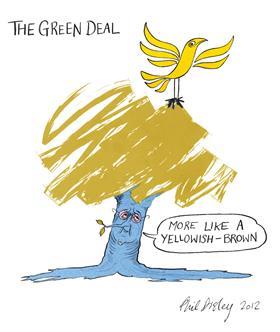 You'd think that the Green Deal would be the perfect mix of blue and yellow politics. But the recent spat over compelling homeowners to upgrade their homes has seen Conservatives desperately trying to show it in a yellow light. The papers last week carried a raft of quotes from unnamed Tory sources blaming their coalition partners for the scheme's shortcomings and calling for it to be scrapped. They must be wearing rose-tinted spectacles because the Green Deal was front and centre of the Tory election manifesto in 2010. Soon enough, however, the customary u-turn was performed and ministers were insisting the policy was True Blue after all.

Send any juicy industry gossip to hansom@ubm.com