This week, the industry has been enjoying a traditional raffle and a little drinkie, hearing a speech by the local MP, having too many ice creams and wishing the kids would just calm down a bit
Dull? Let's hope so
The World Cup may finally be over, but for all those looking to make the next major football tournament more interesting after England make their inevitable early exit, Willmott Dixon has an idea. At a company bash up in Manchester to watch the Holland vs Uruguay semi-final, guests were asked to draw a raffle ticket that represented a minute of the game - whoever held the ticket showing the time of the first goal would win a prize. Imagine my disappointment, then, when I drew number 119 - effectively leaving me hoping for a boring goalless draw until the penultimate minute of extra time. A good idea, but it probably needs some refinement …
The minister for regeneration
At a Construction Industry Council function last week, construction minister Mark Prisk bucked tradition by cracking a real joke, boosting laughter levels way beyond those usually obsequiously afforded a politician. Having spotted MP Nick Raynsford to his right and MP Tony Baldry to his left, he offered, "Is it just me, or are construction ministers becoming like the Doctor Whos of past and present? I hope I will last more than one season - that's the plan anyway."
Turning wine into water
Leaving the grounds of Henley with a giant bottle of champagne stashed under your arm is, of course, beyond the pale. Decanting it into water bottles, however, is entirely socially acceptable - not least because nobody has any idea what you're up to - as one consultant at this year's regatta event discovered. It may not be behaviour becoming of the Royal Enclosure but it does provide an excellent takeaway option for the taxi ride home.
Not a pretty site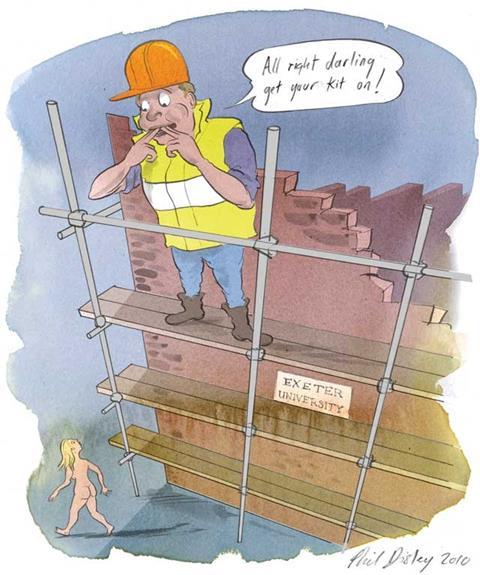 I hear that the South-west's alleged "biggest building site" has recently become a haven for clothing-averse youths, as a vogue has sprung up among students at Exeter university to pose for nude pictures atop the institution's extensive building projects. The campus is undergoing a complete overhaul, which has left plenty of scope for stolen signs and daring bouts of public nakedness. Maybe the young folk have been trying to get their own back, having spent the past year sounding off about such horrors as 9am drilling and muddy roads. I, for one, sincerely hope the Devonian chaps and chapesses will have put their clothes back on when they return from the summer hols.
How many Ts in WSP?
After last week's glut of T-shirt related gossip, you would have thought the industry could offer up no more. But you would be wrong. As light relief after a marathon session of meetings at WSP towers last week, I was presented with not one but two of the now infamous "Urban Cool" ice cream-themed T-shirts which, alas, I had failed to pick up at WSP's bash earlier in the month. Is there a mountain of the garments using up valuable space that could otherwise be employed for work? Perhaps we should expect next year's summer party to have a suspiciously similar theme …
Something for something
Why put your hand in your pocket for legal tender when you can barter instead? Many a wacky idea has been borne out of these recessionary times but Bartercard may just have some legs. It is the world's largest non-cash trade exchange, and it now includes property. Builders and developers can, apparently, get their hands on a property or site in exchange for their skills. No cash required. Perfect when you're looking to reduce costs. Properties can be part-purchased and then renovated or refurbished using one of the tradesmen on the Bartercard "network". I wonder what I might get offered in return for some of the things lying around chez Hansom? Who needs eBay?
Send any juicy industry gossip to hansom@ubm.com