While Carillion and its auditors continue to be verbally demolished by MPs, a former residence of mine could prove harder to knock down – while at my new home in Shoreditch, the writing is on the wall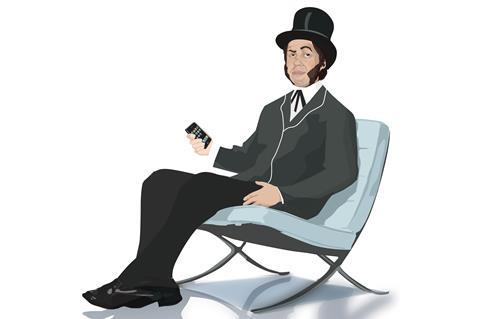 That's cold, bro
It was the turn of Carillion's auditor KPMG last week to face MPs and their withering putdowns. Labour MP Peter Kyle, a member of the business select committee, told the firm that he was less than impressed with its work for Carillion. "I wouldn't", he offered, "hire you to do an audit of the contents of my fridge." I think the accountant's marketing department might be leaving this testimonial off the next lot of promotional literature it sends out.
Gunning for Green
Does Labour MP Frank Field have a problem with the name "Philip Green"? Field, who is joint chair of the select committee inquiring into Carillion, has always had something of a way with words. He once called the House of Lords "a model of how to care for the elderly" and at a parliamentary inquiry in June 2016 into the collapse of retailer BHS, he had a bit of ding-dong with its former owner, retail tycoon Philip Green. At last week's hearing, he accused the Carillion directors, who had appeared earlier in February, of behaving like "peacocks", adding they were "looking around thinking they were going to be admired". It just so happened that one of those Carillion directors who appeared before him was its former chairman, Philip Green – no relation to the other one, mind.
Thanks for sharing
Much has been made of the dividend payments Carillion continued to make as its debt and pension deficits piled up. In all, it handed shareholders more than £700m in dividend payments during its 19-year history, although this would be little more than loose change to a company like Barratt. The housebuilder said in its recent half-year results that by November next year it will have given shareholders £1.9bn in dividends over a five-year period. Now that's what I call a dividend!
Strength of a Sampson
As McGee nears the end of demolishing my magazine's old home at Ludgate House, attention in the demolition world will turn to Sampson House on the other side of the railway line that goes in and out of Blackfriars station. A friend of mine used to work at the 1970s Brutalist landmark – designed by Fitzroy Robinson & Partners – and he tells me that those tasked with tearing it down might have a bit of a job on their hands. "If ever there was a nuclear war, that's where I'd be heading. It's indestructible." He tells me he ended up working in a room where there was not a single window, so it's possible that might be why he's noticed the resemblance to a bunker.
Happy talk
Another week, another survey telling me which demographic is the happiest in the land. This one, carried out by a gift card firm, says that men aged 55 who are working in a marketing, communications or advertising micro-business – defined as employing fewer than four staff – are the happiest workers in the UK. I've no idea whether this is true or not – although since my move to Shoreditch I'm well placed to find out. But at least the survey does put salary down as the number one factor in a worker's happiness. Personally, I tend to take with a pinch of salt any survey of this sort if it puts factors like ping-pong tables and free fruit before how much we earn in deciding whether or not we bother to turn up for work.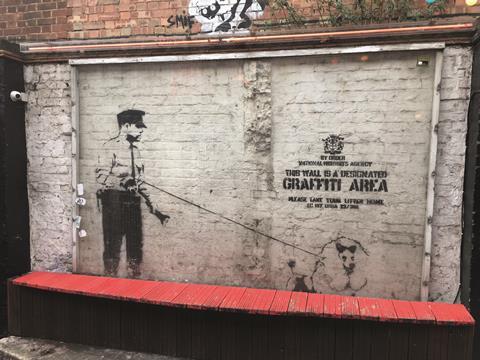 Wall eyed
After more than 10 years in Southwark – the bottom of Blackfriars Bridge to be exact – my scribes recently moved east to Shoreditch, or as I am prone to calling it: London's trendy Shoreditch. My new home is in Rivington Street, which is daubed with graffiti. Not any old spray-paint jobs, mind, but artwork by Banksy, Frenchman Thierry Noir – who no doubt managed to annoy East German border guards, given that he painted the Berlin Wall hundreds of times – and someone called C215. No idea who that is but, in short, this is street art nirvana and I'm in the heart of it – words I never thought I'd write, I must admit.
Send any juicy industry gossip to hansom@assemblemediagroup.co.uk