We report on racy goings-on, with recently arrested property magnates throwing yacht parties, firms hosting lavish dinners, and politicians talking procreation. And some said Mipim was tamer this year …
In absentia
Nothing quite elevates a party to must-go status than the arrest of its hosts 24 hours in advance. For the 100 select guests invited onto Vincent Tchenguiz's 130ft yacht Veni Vidi Vici last Thursday night at Mipim it was quite a coup. After the Tchenguiz brothers were arrested and then released by police in relation to their involvement in the collapse of Icelandic bank Kaupthing, the duo responded by throwing a lavish bash on their boat in Cannes complete with champagne, foie gras, caviar, squid ink risotto and, erm, a party mix of europop and Britney Spears.
The brothers themselves were nowhere to be seen - a spokesperson said they had remained in the UK and sent their best regards. But suspicions they could be on board after all were soon raised when waiters began carrying piles of food below deck. Although nobody could get far enough past security to confirm the hunch, rumours were rife. Stowaways on their own vessel? That's the sign of a very bad week indeed.
Out of Africa
If you were at Aecom's dinner on the Wednesday night, you'd be forgiven for thinking that the good old days were back. The bill at the end of the night, I hear, for a dozen diners, came to a cool €4,000.
The '68 vintage bottle from the restaurant's wine cellar might not have helped keep costs down. Still, at least Aecom's hospitality budget for Cannes has expanded now it no longer has to wine and dine people in Libya. The rumours are that it had to pull about 300 or so people out of the country. Ouch.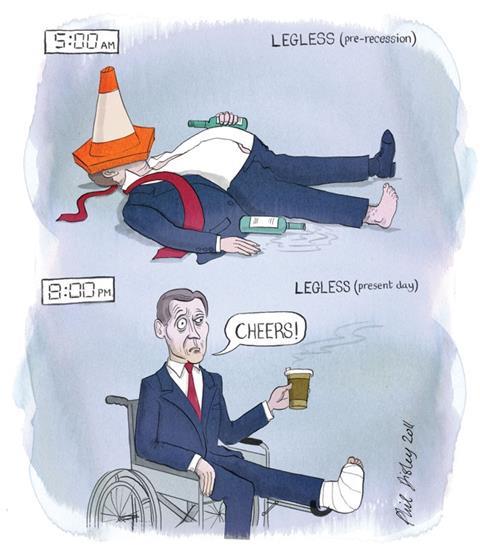 Back in the day
The Tchenguiz affair proved that Mipim has still got it when it comes to glamour and scandal, but if the antics of a certain head of services at a major UK consultant are anything to go by, there's a risk that delegates are becoming lightweights compared with pre-recession debauchery. Said attendee was so tired and emotional on Wednesday night that he tripped on the road, hurt the tendons in his leg, and ended up in hospital. At five in the morning? No, at 8pm. Compare this with the reminiscences of one old timer, overheard at a Cannes taxi rank, remembering one hedonistic Mipim in the early 2000s: "I was here five days and slept about 10 hours. We'd drink until 5am, go to the casino till about 8am, get some breakfast and be back round the pool with a drink".
Let's be productive
London mayor Boris Johnson, as you would expect, was on top form at Mipim, delivering ever more hilarious speeches over the course of Tuesday, although not everything went down quite as he had planned. There was a sharp intake of breath from a number of delegates when he claimed that "we're not here for a jolly". And it was difficult to tell whether delegates were laughing with him when he declared that cities "are the best places to reproduce" in his keynote speech. Another reason that the mayor left his rural constituency for the fertile lights of the big city?
City of Willmott
London, lest we forget, is not the only city in the UK, and Johnson made a show of touring the many regional stands at Mipim last week so the rest of the country doesn't feel too left out of the capital's buoyant mood. There was a Thick of It moment, however, when he accosted Andy Geldard, Willmott Dixon's St Albans-based press chief, believing him to be a representative of Manchester. As one would expect from Geldard, the opportunity was not wasted and a 10 minute chat ensued.
Morning glory
Another speaker who is always excellent value for money was Peter Rees, London's top planning officer. Describing the ascent of the Shard visible from his south facing London abode, Rees told his audience that every morning he "draws the curtains, and sees an enormous erection". With the capital's leaders linking construction and virility together so firmly in their minds, is it any wonder that development in London is going hell for leather at the moment?