Peter Rogers reveals a penchant for leathers and Sheppard Robson's facilities sit in an unusual place, while Frankfurt is compared unfavourably to Milton Keynes and Argent unveils an experimental Christmas tree
Need for speed
I hear Building Live keynote speaker Peter Rogers commutes from his Wimbledon home to his site office for 22 Bishopsgate – which is currently in Tower 42 over the road – by motorbike. It beats the hassle of the tube any day, the Lipton Rogers partner tells my scribe. But I do wonder if this colourful dresser – he was wearing a magenta shirt and orange-framed glasses at last week's event – is entirely happy bombing around the capital in plain old black motorcycle leathers?
A testing friendship
Sticking with Rogers, he told the story of how he and his partner at Lipton Rogers, Sir Stuart Lipton, ended up on opposite sides of a dispute when he was an engineer at Sir Robert McAlpine. This was in the late 1970s and the scheme in question was Cutlers Gardens, an office job close to Liverpool Street. "I put in a very large claim against him and won it," he recalls. Quite a few pounds it was too, he tells me. They've been business partners for years now, of course, but he admits: "We're very different and we challenge each other." Just not in a court of law any more, I guess.
Lacking a ladies
Site facilities have improved immeasurably over recent years but things weren't always so great – especially if you were one of the few women working on site back in the 1980s. RLB director Ann Bentley recalls working as an engineer for British Rail on a scheme to extend a signal box in the Toxteth area of Liverpool. A few hours into her first day she asked where the loo was and her horrified boss, realising there were no lavs for women, told her she couldn't use the gents for fear of being appalled by the carnage she might find. She ended up nipping over the road, using the facilities at the local dentist instead. The moral of the story? Sometimes a trip to the dentist isn't so bad after all.
A chilly seat
Staying with toilets, but moving to the Camden home of Sheppard Robson, the architect hoping to design a new stadium for Everton football club. The practice's office, a former 1970s piano factory, is undergoing a long overdue refurb, which has meant the firm's 250 staff have been making do with outside loos. Fine in the summer, I hear – with the WCs drawing comparisons to beach huts – but given winter has swept in, taking a comfort break now involves dealing with Jack Frost. I do hope they're all hotdesking so they can warm up when they get back into the offfice again.
Heading off?
Is Great Portland Estates' head of projects James Pellatt worried by the glowing tweets from Goldman Sachs' chief executive about the wonders of Frankfurt? For the past month or so, Lloyd Blankfein has been telling his 70,000 Twitter followers how much he's been enjoying the German financial capital and that he anticipates he'll be spending quite a bit of time there in the wake of Brexit. "Great meetings, great weather, really enjoyed it," said one post. Pellatt is unimpressed. "Congratulations to the people going there," he tells one of my hacks. "It's the equivalent of Milton Keynes. It's a frightfully dull place." Fortunately for the 6,000 Goldman Sachs staff who may not want to swap London for the German version of Milton Keynes, the US bank is ploughing on with the construction of its new European headquarters on Farringdon Street, where Multiplex is due to finish work at some point in 2019. So we can expect Goldman Sachs – and maybe even Blankfein – to be here for a while yet.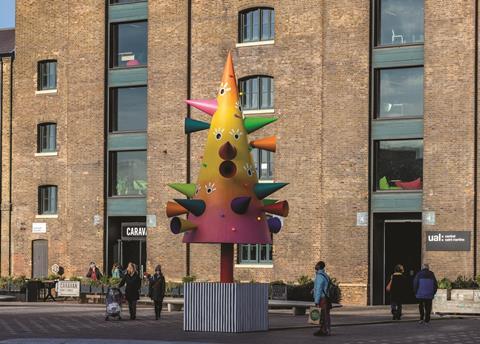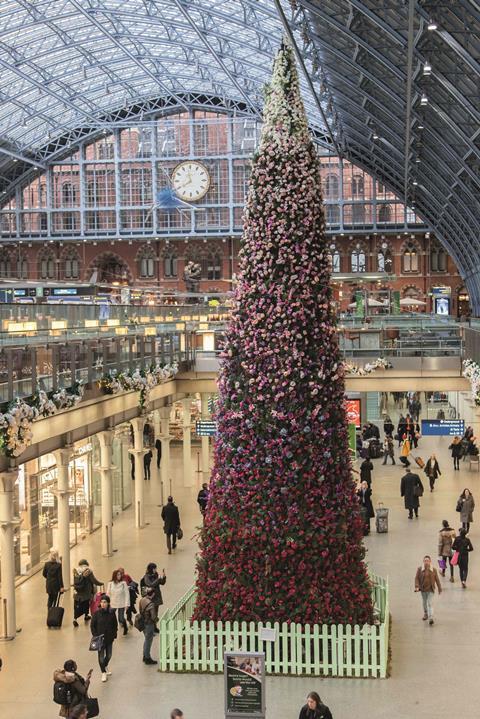 Festive and funky
Argent's King's Cross development has unveiled its latest take on the Christmas tree in Granary Square. Designed by artists Joanne Tatham and Tom O'Sullivan, it is described as "a chaos of shapes, colours and lights". It looks like a cartoon bird to me. Fittingly, I see it's been plonked outside the home of art college Central Saint Martins and it's called Does the Iterative Fit. I'm not quite sure how to translate that, but if it's a proper Christmas tree you want – one that could have come from a snowy forest – head over to nearby St Pancras and take a look at the 47ft-high tree standing in the middle of the thoroughfare. It's decorated with 15,000 flowers and is, I might say, bloomin' marvellous.
Send any juicy industry gossip to hansom@ubm.com