This week, RMJM goes through an identity crisis, Pure Student Living approaches Chinese teenagers online, Aecom's Jason Prior has words with taxi drivers, and T&T launches Johannesburg's second moon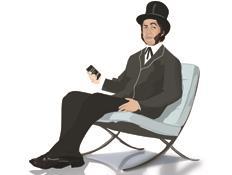 The name game
I fear architect RMJM may be having an identity crisis. While the firm continues to be owned by the Morrison family, it has been through many changes over the last couple of months and its various entities have been undergoing equally rapid name changes. RMJM's three subsidiaries entered receivership late last year, only to be immediately bought out of receivership. Last month the company that bought them - RMJM Architecture - was sold to an investment firm, Duthus Investments. No sooner had Duthus made its purchase, than it changed its name to RMJM Group Investments Limited. Duthus had originally been incorporated as DMWS 1007 Ltd a fortnight before the sale. If that wasn't confusing enough, RMJM Group Ltd - the original parent firm - also changed its name and is now known as BSR 2013 Ltd. Well, it's certainly keeping my hacks busy.
Going viral
Firms hoping to flog their UK developments to wealthy Chinese immigrants may be interested to hear about student accommodation developer Pure Student Living and its rather cunning plan. Conscious of the masses of Chinese students looking to study in the UK, Pure - a joint venture between Carlyle Group and Generation Estates focused on central London - has appointed an agency to build its brand in China using Weibo, the country's equivalent of Twitter. Agency Language Brand Communication will use it to market Pure to students in their native Mandarin and discover more about their living preferences. Apparently 80% of Chinese college and high school students are already on Weibo, with 42% of them using it daily. Oh dear, I do feel old sometimes …
Taxi!
As Aecom's head of buildings and places and London 2012 Olympic park masterplanner Jason Prior tells Building this week, for those involved in delivering the Games, the event itself was partly a "terrifying" experience (see page 26). But the journey getting there - in the face of an initially deeply sceptical public - was just as tough, he says. How did he know when his team had finally won round Londoners? "The taxi driver test," he says. "Initially when you told taxi drivers what you were doing they laughed and said: 'You don't stand a chance, mate!' But three or four years later taxi drivers were talking about regeneration and legacy and you think: "We've done it now." Readers take note: sound out cabbies.
A good cause
Heart-warming news from homelessness charity Crash. The charity has completed a refurbishment of London City Mission's Webber Street day centre. The centre has been providing care, support, food, showers and clothing for 50 years, but fell into disrepair. EC Harris, Aecom, Child Graddon Lewis Architects and NHBC Building Control provided professional expertise, while British Gypsum, Dulux Trade and Johnson Tiles provided materials. Crash said the improvements had received "consistently positive feedback" from guests. One told Crash: "Normally people look down on you but here, for three hours a day, I can forget I'm homeless." Hats off to everyone involved in this worthwhile cause.
Hitting the big screen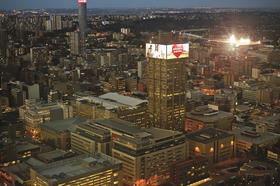 "Turner & Townsend celebrates world's largest LED screen," reads the press release on the unveiling of an advertising display high above the Johannesburg skyline in South Africa (pictured left), on which the UK firm was cost and project manager. But should it be celebrating? The screen - situated at the top of a 29-storey building - can be seen up to 1.5km away and has divided opinion. One message board says the city's residents are delighted, with some describing the screen as a "symbol for the city" and evidence it is "alive and kicking". But not everyone is convinced. The Urban Joburg blog criticises the screen's inescapable advertising, while one wag dubs it "Joburg's second moon".