Shameless marketing tactics this week, plus, an engineer and an architect run out of gas, what people are calling Zaha Hadid, and the latest outbreak of acronymitis at the civil service
There is nothing like a dame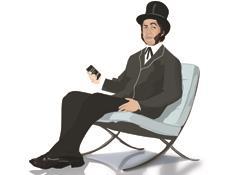 Ramboll chief executive Charles McBeath was happy to admit the engineer was "lucky" England got knocked out of Euro 2012, preventing a clash between the firm's summer bash at Somerset House last Thursday and an England-Germany semi final. England's heroically inept performance ensured this was a well-attended event, with guests packing out the east wing of the historic Thames-side building. The attendees included someone who is currently working closely with Zaha Hadid Architects. Does the newly appointed Dame Zaha insist on being addressed by her new title? "It depends what mood she's in" apparently.
What a gas
Sticking with Ramboll, the engineer and Roz Barr Architects unveiled their contribution to the London Festival of Architecture this week - but not without a few unexpected last minute design changes. The idea had been to have a massive helium balloon tied down to a pavilion of sandbags. Mid-way through its development, however, the team discovered the world is in the grips of a global helium shortage and so they were obliged to abandon the balloon idea and introduce to a big suspended pool of water instead. But the questions remain where has all the helium gone and why are those guys from Ramboll speaking with such high-pitched voices?
Snail's pace
When will the Armadillo on Oxford Street rear its head? I'm told Project Armadillo was the codename for Foster + Partners' original 2002 plans for a £300m extension to Selfridges' flagship London store - perhaps a nod to the retailer's strikingly knobbled Birmingham Bullring store. The luxury retailer is now revisiting plans for an extension with Italian architect Renzo Piano. It is not yet known whether the department store is returning to the animal kingdom for inspiration for its latest designs.
WOFT
We all know that Her Majesty's civil service loves a good reorganisation - and all the fresh acronyms this entails. The Defence Infrastructure Organisation (DIO), which has only been in existence a year, is already set for a name change. Shortly it is to be reorganised into two parts: the Defence Infrastructure Delivery Organisation (DIDO) and the Defence Infrastructure Governing Authority (DIGA). This is because it is in the process of appointing a Strategic Business Partner (SBP), from the private sector, which will take over its operations and largely render it extinct. "From DIO, to DIDO to Dodo," one observer wryly noted.
X marks the spot
What possible use would an engineer have for the games console the XBox? Well apparently the XBox - best known for games such as Call of Duty - is so effective at creating virtual environments that the engineering consultant WSP has deployed the technology to build virtual BIM models of its buildings. WSP's computer systems are so closely related to the XBox that its engineers can take BIM models home and view them on their games consoles. WSP's IT department has not gone as far as to actually install XBoxes in the office …yet.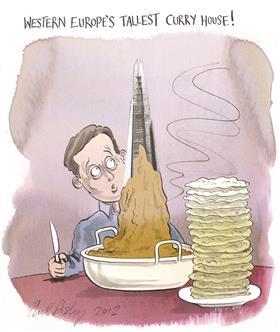 Hot competition
The award for cheekiest marketing ploy of the week goes to the Shad Indian takeway in London Bridge, which has sought to capitalise on the brand's very close likeness to Western Europe's tallest building nearby.
If you type "the Shard" into Google Maps you are taken to the Indian takeaway's website - which has added an extra "r" to its web address to now "theshardindian.co.uk". Internet users hoping to find the location of the 1,000ft skyscraper can now sample the heights of Indian cuisine instead.

Send any juicy industry gossip to hansom@ubm.com