What better way to start the year than clearing out unwanted possessions - such as a 45ft yacht? Elsewhere, one boss has a very long road ahead to get fit in 2012, and Nick pops the question to Holly
A nasty case of wind
Architect Ian Simpson was pulled into the controversy surrounding his practice's 47-storey Beetham Tower in Manchester last week, after city centre residents
stepped up their complaints over an eerie noise emanating from the skyscraper. In an interview with the Manchester Evening News, Simpson apologised to local residents for the noise, which is generated as high winds gust through the glass blade at the top of the £150m skyscraper. The architect, who is looking into how to resolve the issue, said he was all too aware of the low humming noise - as he lives in a penthouse at the top of the offending building.
Drop in the ocean
They say "when it rains it pours" so it came as no surprise that financially troubled architect Austin-Smith:Lord was dealt another blow late last year. The firm, which entered into a voluntary agreement with creditors about how it would pay them £11.3m, failed to get its accounts filed at Companies House in time for its 31 December deadline. Which means it'll be liable for a £150 fine. But given that the firm still owes millions to its other creditors, you get the sense the debt collectors from Companies House may have to join the back of the queue.
No mean feet
For many January is a time for jogging off the Christmas pounds. But one construction boss is taking his exercise fix to extremes. Matthew Loddy, managing director of scaffolding firm Framework, is embarking on 100 marathons in just 100 days from tomorrow, taking him from Lagos to London, where he will join the Virgin London Marathon on 22 April. Kind of puts your huffing and puffing around the local park into perspective, doesn't it? To sponsor Matthew,
visit www.framework foundation.co.uk.
In the limelight
Congratulations are in order to the many construction and property figures honoured in the Queen's New Year Honours list. But regrettably it was also our sector that courted the most controversy. Two industry stalwarts made the front page of the Sunday Times in consecutive weeks. First there was the controversy surrounding James Wates - a Tory donor - receiving a CBE. Then last Sunday the paper reported that Tories and Lib Dems fell out over property mogul and convicted fraudster Gerald Ronson's inclusion on the list - a Lib Dem bid to honour him with a knighthood for his charity work was apparently vetoed by Number 10. What is it about property figures and political controversy?
Sweet nothings
Congratulations too to Nick Candy and Holly Valance after Nick popped the question in huge flaming letters while in the Maldives. Oddly, there was no sign of a question mark on any of the photos of the moment posted on Twitter by the bride-to-be. So it looked more of a demand than a proposal. Still, I imagine the ring will make up for any grammatical errors. What's the formal Debrett's guidance now? Three months' salary?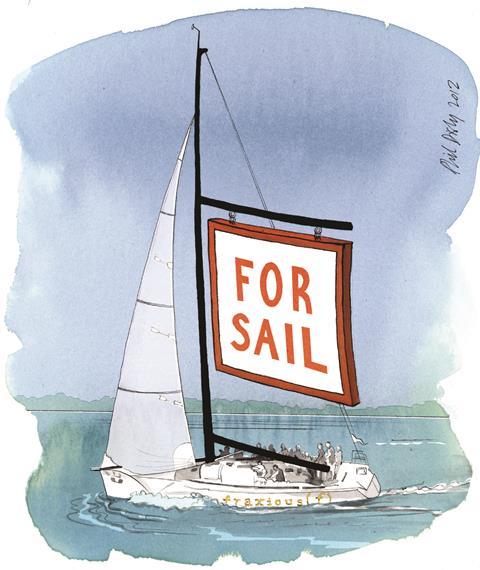 January sales
I hear Jack Pringle, co-founder of architecture practice Pringle Brandon is selling his pride and joy, his 45ft racing yacht, Fraxious. A regular on the Little Britain Challenge Cup scene since Pringle bought it, Fraxious is a serious racing machine, one of just 17 Farr-45s ever built. Pringle runs a tight ship, with his team coming second in its class in 2010. However, given the current economic environment, he may have to look outside the construction industry for a buyer - Farr-45s cost more than £100k to buy, with running costs of anything up to £75k per year.