This week, start at the summit of Kilimanjaro, then work your way down to a surreal tea party and Romanian TV. You'll have reached the bottom when you find yourself at a party conference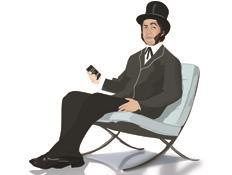 Land of promise
Aecom's European CEO Steve Morriss will have known when he took the job at the global engineer that his role would involve a lot of international travel. But he might not have banked on it determining where to take his holidays. In a live interview on Romanian national breakfast television, Morriss, bedevilled by an enterprising journalist with a nationalist bent, found himself pledging to take his next vacation in the country. He is not, apparently, a man to go back on a promise - though he's said to be at a loss as to where in the country to take his family. Any ideas for Morriss' forthcoming jaunt? Email hansom@ubm.com and I'll pass on your suggestions.
Alice's Adventures in King's Cross
That perennial favourite Lewis Carroll character the Mad Hatter threw another tea party last week, in the surroundings of a King's Cross building site rather than in the more magical surroundings of his native Wonderland. The tea party was to celebrate the topping out of developer Argent's Two Pancras Square office building and attracted the March Hare and Alice (naturally), as well as non-fictional pair Argent director Tony Giddings and Bam Construction commercial director Chris Dent. Rumours that Tweedledum and Tweedledee have signed a pre-let for the building are yet to be verified.
Pedal power
The construction industry loves a bit of cycling. On these pages we've documented the exploits of the annual London to Mipim cycle ride; architect Peter Murray's ride across America; and now news reaches us that cyclists from Bam Construction have completed a 900-mile charity ride around the UK, raising, to date, £25,000 for Macmillan Cancer Support. Highlights included stopping off at a trendy pub in Hampstead, where the riders shared a table with TV's Richard and Judy. And they say cycling isn't glamorous …
Spies like us
Much tittering at a Labour Conference fringe event on blacklisting on Monday when it was revealed that Carillion had sent representatives who were in the audience. The firm, one of the major contractors which used the services of the notorious Consulting Association was of course last week barred from exhibiting at the conference by Labour's National Executive Committee. Iain Davidson MP, panel member and chairman of the Scottish Affairs Committee greeted "comrades, friends and spies from the construction industry".
Battle lines
The Liberal Democrats were once a party with a well-deserved reputation for fence loitering. But barely three years into coalition government and "consensus" is a dirty word. Take, for instance, a recent exchange between communities and local government minister Don Foster and his predecessor Sir Andrew Stunell, addressing the construction industry at the Lib Dem conference in Glasgow. "When you had the opportunity to make a case for sustainability, you went for quantity rather than quality," boomed Stunnell. He then told the industry: "We fought the good fight but you let us down." To which Foster murmured: "Well, not really - it may have been at the very last minute but the cavalry came through in the end!" It would appear that, with militaristic metaphors like these, the Lib Dems' pacifist instincts have been consigned to the dustbin of history, along with the fence.
Top of the class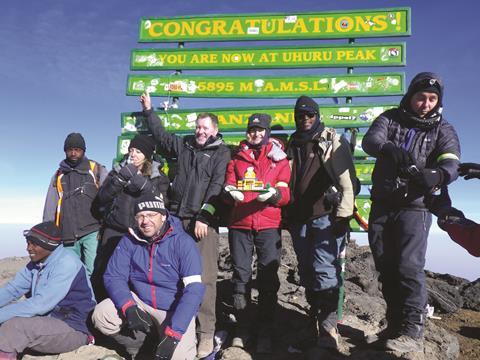 Hats off to the intrepid supporters of education charity the Transformation Trust, who have completed their seven-day trek up the world's highest freestanding mountain, Kilimanjaro. The trekkers included Wates' Steve Beechey, the Education Funding Agency's Mike Green and Rachel Stephenson and 12 sixth-formers from challenged parts of the country. If scaling Kilimanjaro wasn't difficult enough, the teams were then challenged to build a Lego school at the summit (middle of picture). Beechey, a Building columnist, said: "The students were an absolute credit to their schools and families, adding endless energy, enthusiasm and witty conversation on the long trek."

Send any juicy industry gossip to hansom@ubm.com