Some big personalities unburden themselves at Ecobuild, and we try to get to know our readers (and their taste in tea) better. But who is the mysterious figure lined up to host this year's Building Awards?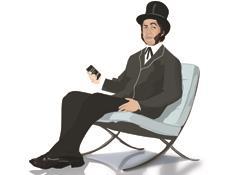 Accidents of birth
RIBA Gold Medallist 2014 Joseph Rykwert let rip during the Ecobuild event this week, lambasting British cities as "sick" and accusing government of "social blindness" on housing. Yet his words were delivered with a smile. How does the 87-year-old architectural historian stay chipper given his outlook, an audience member asked? He said sunnily: "Millions of people are dying in China of respiratory diseases. I'm lucky because I live in the suburbs of London." Also at Ecobuild, journalist Janet Street-Porter had a confession. Before her talk on mass media taking the environment more seriously, she admitted: "I trained as an architect. I built two houses, neither were very eco-friendly. They were actually financial and mental suicide." Hopefully, sharing this was therapeutic.
A well-kept secret
Leading lights of UK construction gathered to toast the nominees in this year's Building Awards at our shortlist party last week. It was held at the rooftop bar of the Grange Hotel, which overlooks St Paul's Cathedral and offers stunning views of London's skyline. Before too much champagne was supped, it was clear to my hacks that the mood about the market was the most optimistic it has been for years. This bodes well for a good night at the awards proper on 2 April. A top notch comedian is signed up to host - but I'm afraid I'm keeping the identity under my hat!
Just one sugar for Paul, please
Is nothing sacred? News has reached us that every builder's favourite hot brew - the builder's tea - is not as sweet as it once was. A study by product manufacturer Origin, which focused on the likes and habits of 500 builders around the country, found that the builder's tea now comes with one sugar, rather than two, that the average tradesman sinks six cups a day - with one in seven powering through with 10 hot drinks - while a chocolate digestive proved the biscuit of choice. According to the study, the average tradesman wakes up by 6.24am and is out of the front door by 7.20am on a week day. The survey also found that the average builder earns £26,000, supports Manchester United - and is called Paul. Who knew?
Good sportsmanship …
As spring starts to blossom, the thoughts of many turn to a series of gruelling annual sporting charity events. As you read this, 100 hardy souls are pedalling en route on the 1,500km journey to Cannes in time for the Mipim property conference. They hope to smash the fundraising target of £225,000 for a selection of charities, including Coram, which supports vulnerable children. Meanwhile, aid agency Care International is inviting teams to compete in the fifth annual Care Construction Challenge, which takes place on 29 June in Monmouthshire, and asks participants to cover a marathon distance on foot, bike and kayak. Visit www.cycle-to.org and
www.carechallenge.org.uk/construction challenge to find out more.
… and expert rockers
Expertise Rocks! - cousin of industry battle of the bands Construction Rocks! - celebrated its second year at London's 100 Club last week. The musical charity fundraiser, for firms that provide expert witness services, saw last year's winners Over the Hill - of Hill International - surrender their title to Proven to Rock! from regulatory response consultant Proven Legal Technologies. It was surprising to see quite how hard expert witnesses can rock. The judging panel included Building editor and music aficionado Sarah Richardson. Around £5,000 will go to the winner's nominated charity Asthma UK. Congratulations to Proven to Rock! and to Stuart Wilks from Hill who organised the event.
Where are the lifts?
Curious developments down at the Battersea this week, with a large crane carrying a steel box onto the top of the old power station, which is being transformed into a luxurious residential and mixed-use development. It turns out the mysterious object was a marketing suite, being readied for the launch of sale of flats built as part of the second phase of the £8bn scheme. The marketing suite will sit on the roof of the power station overlooking the Thames, with views spanning from Chelsea Bridge across to the City. Certainly a stunning location, but how the well-heeled potential buyers of the flats will get up to the suite is not yet clear.
Send any juicy industry gossip to hansom@ubm.com