The people are revolting! Making known their disapproval of the excesses of One Hyde Park, forcing a contractor to rip up some newly laid tarmac and bagging hot properties for themselves
Common touch
The Candys' luxury One Hyde Park has always divided opinion, as some question the taste of having chilled ceilings and a residents' cinema in an era of austerity. Now, to add to the list of detractors is Pulp frontman Jarvis Cocker, who, showing his loyalties still lie with the common people, launched a jeering attack on the development at a gig in neighbouring Hyde Park last weekend. Pointing out that he was effectively playing "in their backyard", Cocker encouraged the crowd to make as much noise as possible to disturb their wealthy neighbours. The message: your penthouse-owning dad may be able to block out the roaches, but he can't do anything to silence a 47-year-old from Sheffield.
Pimp your CV
It's good to see that the feed-in tariff boom is providing much needed work for those affected by the great construction industry job shakeout. Patrick Gulley, the longstanding and now ex-communications director of QS Gardiner & Theobald, has not only set up a PV installation company but has just completed the biggest private solar installation project in the UK. This nugget came to me via social networking site LinkedIn, which also details Patrick's career. Prior to becoming a PV bigshot Patrick spent three years running his own business with a short stint at PR agency TTA before that. Interestingly there was no mention of those long years spent at G&T …
Galliford tried and failed
Galliford Try has landed in a spot of bother after laying a private road as a freebie for an MP's wife. Yorkshire MP Graham Stuart says his wife happened to be cycling by workmen from Galliford who were laying roads nearby, and asked if they had any spare asphalt to cover their pot-holed road. She never gave her name or her husband's. But homeowners can be famously prickly about even the smallest changes to their neighbourhoods. Sadly Galliford have now agreed to rip up its work after complaints from neighbours. Drivers beware!
Pick a wage, any wage
With the news that Ian Fordham will be following Ty Goddard in his departure from the British Council for School Environments to Goddard's new venture, the Education Foundation, conversation has predictably turned to what will become of the BCSE - which is recruiting for a chief executive on a £55k salary. One Whitehall source this week archly suggested that the organisation "has a real chance to be taken seriously" - but there's a lot riding on that appointment. Which might be why the job spec makes provision for the salary to rise to £70k, with no specific details given on what would elicit such a reward.
Kids draw the darndest things
The most hotly-contested construction contest of the year has drawn to a close - the National Federation of Builders' annual design competition for primary school children to draw the best site-safety poster. As Hansom readers will know, the NFB has had issues in the past with the sheer
quantity of horrifying entries from macabre kids featuring detatched limbs and gruesome deaths. Happily the 300 plus entries this year were "not too gory".
Eagle-eyed worker
As property prices stutter and stall thoughts naturally turn to the heady nineties, when any spotty teenager could buy a plush pad and flog
it five years down the line for quarter of a mil. More or less. One punter who cashed in big was a construction worker on Berkeley Homes' St George's Wharf residential towers in London's up-and-coming Vauxhall. Sitting high above the scheme in his tower crane, the worker had a unique perspective from which to suss out the best flat to buy off-plan. A subcontractor tells us the worker has now cashed in on the investment for an eye-watering profit.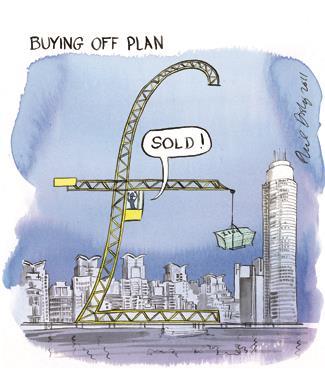 Send any juicy industry gossip to hansom@ubm.com