This week, a septuagenarian warms up for a rugby match, Grant Shapps doggedly pursues his dream to have more Twitter followers than anyone else, and a JCB digger covers itself in glory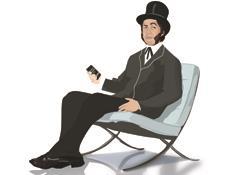 This sporting life
The indefatigable 73-year-old David Bucknall - outgoing chair of Rider Levett Bucknall - was always likely to leave the firm bearing his family name with a bang. RLB is holding no less than six separate leaving celebrations for Bucknall around the country, to be attended by the firm's nine regional UK offices and clients and friends. Bucknall has challenged each UK office to come up with an idea to raise funds for the Birmingham and Black Country Community Foundation charity he chairs. He told one of my reporters he had heard one of the events may involve him playing his former sport rugby at his old sports club. "There's a challenge," he said with characteristic gusto.
To tweep or not to tweep
Regular readers will recall the storm last month after housing minister Grant Shapps was accused of using a computer programme - or "spam-bot" - to boost his followers on Twitter. The programme follows almost anyone, then unfollows them, then follows them again with the aim of increasing follower numbers. This week his followers included "Tweeps", in the parlance, meaning tweeting in a range of languages including: Kazakh, Russian, Arabic, Spanish, Chinese, Danish, German, Turkish and Dutch. Who knew Shapps was so multi-lingual?Curiously, he also follows @TGIFGuide, the "Ultimate Girls' Guide to all things Travel Gourmet Indulgence & Fashion in LA".
Yuck!
News from Vinci UK's technology centre in Leighton Buzzard, which is home to one of the UK's largest testing facilities for the construction industry. It puts all manner of building products through their paces, including drop testing of flasks for carrying nuclear waste. Those people at Vinci are tough cookies but I'm told they almost met their match when Crossrail decided to test the durability of underground station floors and walls. Chewing gum and graffiti were one thing, but when it came to bodily fluids well, that was something else entirely.
What lovely panels
It gives me great pleasure to report on a match made in heaven. Former Emmerlade actress and ex-glamour model Linda Lusardi has chosen to install Ploughcroft solar panels on the roof of her house. I know this because a press release with a picture of a beaming Lusardi standing alongside said panels found its way into my inbox. Lusardi was pleased with the Ploughcroft service, as several quotes from her testify. I asked whether Lusardi was offered a good deal on the panels in return for this publicity, to which the PR said Lusardi was offered a "favorable rate".
A slow news day
Proof, if it were needed, that we are in the summer silly season for news. A report in the Scotsman about Britain's biggest-ever Lottery winners - Colin and Chris Weir, who won £161m in July last year - winning planning approval for an extension to their Ayrshire mansion, prompted this comment from Neil Baxter, secretary of the Royal Incorporation of Architects in Scotland (RIAS): "They [the Weirs] are going for a very traditional neo-Victorian pavilion style. The Victorian style is elegant and historically appropriate." What a bizarre thing for RIAS to be commenting on.
Gold digger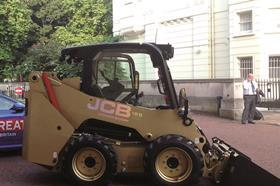 It's not just post boxes that have been painted gold to mark Team GB's Olympics success. Manufacturing giant JCB has given one of its diggers a bling makeover and parked it outside the British Business Embassy trade events taking place at London's Lancaster House. JCB is no doubt hoping the glossy digger will catch the eye of the scores of international politicians and businessmen visiting the capital as it hosts the Olympics and Paralympics. Nothing like a bit of shameless opportunism - I suppose this makes it a gold digger in more ways than one…