I was disappointed to see full berths on a 'ship' I wanted to board but consoled myself by celebrating an unusual anniversary, surveying a new housebuilding course and partaking of more cheese than was healthy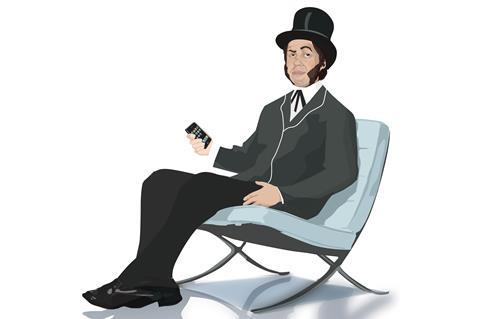 Doing the rounds
In its interim results last week, piling specialist Van Elle flagged up the news that NG Bailey boss David Hurcomb had joined as a non-executive in November. Perhaps Hurcomb will be able to help Van Elle get back the £1.6m the firm says it is preparing to write off following Carillion's collapse last month. After all, Hurcomb used to work at the bust contractor, stepping down as the director responsible for its UK building business in 2009. His replacement? Richard Howson, who later became chief executive and will be having to explain the whole sorry mess to MPs next Tuesday.
Missing the boat
I see that the Shipping Building in west London has been sold for £29m. An art deco gem, it was designed by Wallis, Gilbert & Partners and is part of the Old Vinyl Factory redevelopment – the former EMI record pressing plant being turned into offices, homes and retail by developer U+I. It's now fully let, which is a disappointment because I rather fancied working there. "The Ship has now sailed," U+I's website tells me. I am quite saddened. Given that the plant pressed Pink Floyd records among others, Wish You Were Here seems more appropriate …
The right skills
Redrow has unveiled plans for a three-year housebuilding degree it is launching in partnership with Liverpool John Moores University. The course starts later this year and promises "candidates a full overview of housebuilding skills" such as housebuilding quality, business skills and project management. Given the amount of flak some in the industry have been getting recently – step forward Persimmon – I am curious to see if a planned negotiation module will include a lesson on how to trouser a huge bonus.
An uplifting story
The escalator celebrated its 125th anniversary last month and we learned about a very niche area of history. The first ever escalator was installed at Iron Pier on Coney Island in New York. Inventor Jesse Reno's design travelled at a 25° angle and carried 75,000 passengers in its first two weeks, who no doubt marvelled at this moving staircase. I'm afraid the novelty has long worn off for me, oppressed by years of travelling on London's underground and having to stand on the right. The other day I was warned by a sign on the side that simply using an escalator meant a "danger of death". Which made me think that our health and safety culture has, erm, escalated somewhat over the years.
So good, they named it twice
Could Brookfield be about to add another site to the list of schemes it is developing in the Square Mile? One of my hacks tells me that at a recent British Council for Offices dinner, the company was overheard expressing interest in the plans for 100 Leadenhall Street, which have been designed by architect SOM. The site is owned by a Hong Kong investor, and adviser London & Oriental, which is acting on behalf of the firm, has already talked it up as "one of the last significant sites available for development in the City's eastern cluster". The planned 56-storey skyscraper will have a slanting glass elevation resembling the Rogers Stirk Harbour-designed Cheesegrater next door. Inevitably, it has also been given its own nickname: the rather underwhelming Cheesegrater 2.0. Jacobs Cream Crackers anyone?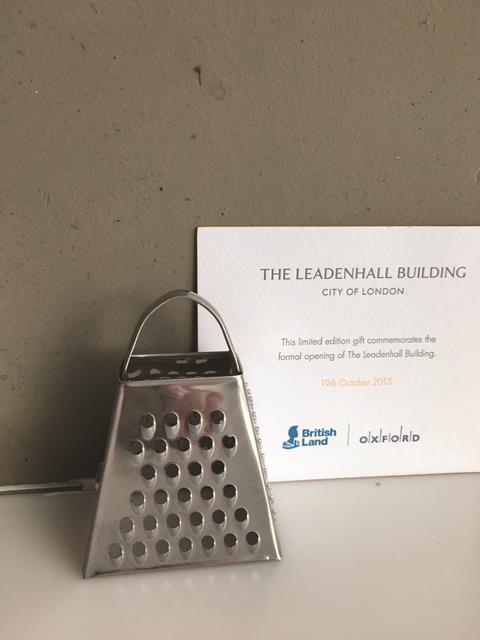 Grater good
I've been having a bit of a clear-out and came across this little gem. It's a limited edition gift to mark the formal opening of the Leadenhall Building, better known as the Cheesegrater. It came in a special presentation case complete with fancy card. A mildly amusing gift, of course, and yet I fail to see any resemblance to the actual Cheesegrater now standing proudly in the City. In shape, I rather think the building resembles a wedge of Italian Parmesan rather than the kitchen appliance pictured. But perhaps "the slice of Parmesan" isn't such a catchy name – and if the cheese in your fridge was that colour, it would certainly go in the bin. Still, at least there aren't any bolts to fall off it.
Send any juicy industry gossip to hansom@ubm.com