It's all about image this week, as the government commiserates with the people, HOK tries to quash rumours and Gerald Ronson turns out not to be the lovable, big-hearted old softie we thought he was
HOK: move along, nothing to see here
The rumours about Aecom gobbling up HOK refuse to go away. Staff at the architect received an internal email earlier this month saying the speculation was unfounded - and it was not the first such message. And I hear the firm's top directors discussed Building's interest in the story last week at a meeting at its St Louis headquarters. HOK denies that it is in talks with Aecom, or that it has been approached by the engineering giant. This is rather odd, since Aedas and a number of others have felt the Americans' breath on their necks. The emails and meetings seem like a lot of effort for an unfounded rumour …
Out of the loop
In the wake of the spending review I hear Osborne and Cameron were keen for senior ministers to visit the provinces and sympathise with those affected. So Vince Cable was told on black Wednesday that he had to be in Manchester the next morning. Cue an early morning train and a mad scramble to find something for him to do when he arrived. Fortunately a tour of the university and a phone appearance on local lunchtime radio were pulled out of the hat, but flustered officials were left wondering whether they had stumbled into an episode of The Thick of It.
Better the devil you don't know
With transport funding protected in the spending review and the government keen to keep infrastructure up to date, the industry may feel it got its lobbying right. But it was not always so. In 1998, the Association for Consultancy and Engineering decided it needed closer access to power, so it invited Nicholas Bennett, who had been a minister in the transport department, to be its chief executive. Unfortunately, Bennett had held office in the dying days of the Tory government, and even boasted of having a fist fight with John Prescott. As a result, the reception the association got in New Labour's Whitehall was frigid.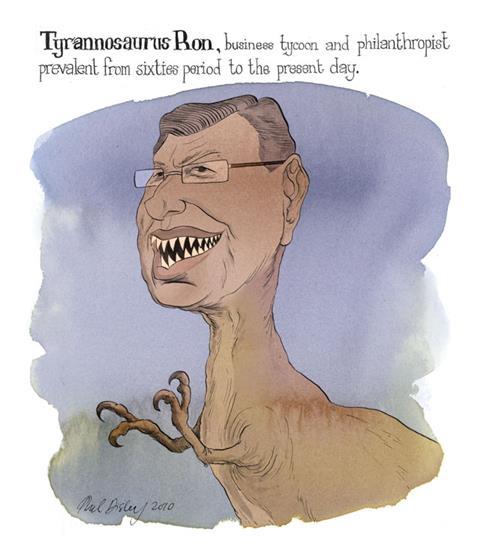 Talking with dinosaurs
Property industry tough guy Gerald Ronson let slip at last week's Movers and Shakers networking breakfast what many have long suspected: his bark is not necessarily worse than his bite. The boss of Heron International got into a rather tense exchange with fellow panellist Tony Pidgley. Ronson suggested that the pair were getting on a bit. "Speak for yourself," Pidgley replied, slowly. Ronson turned to face his rival before saying, even more slowly: "Well, I am a bit of a dinosaur in the industry now. But one that still has teeth." Calm, collected but full of menace. I know which of the two I would back in a fight and, if the nervous laughter that rippled around the room is anything to go by, so did everyone else.
Any space up there?
Several well-placed whisperers tell me that Atkins boss Keith Clarke may step down within 18 months to become a kind of industry guru. The company would not comment, but anyone running Atkins full time deserves a break.
I fear, however, that Paul Morrell already occupies the industry guru top spot. Is there room for more than one?
Not so tough now
Despite the best efforts of Peter Village QC to get big firms on board, nobody wants to join Cala Homes' crusade for a judicial review of the abolition of the regional spatial strategies. Rumour has it that communities department officials warned that anyone fighting the government in court shouldn't expect to get much grant in future. But now the chancellor has cut all funding for market housing, surely that's a hollow threat?
The sins of Adam
My old chum Robert Adam has collected his Building columns detailing the seven deadly sins of architects in booklet form. Sadly it doesn't deal with slothful, lustful, envious, gluttonous, wrathful, proud and greedy designers, but merely arrogant, incompetent, ignorant, conceited, profligate, egotistical and elitist ones. The perfect gift for a special person in your life. Possibly an ex-partner?