It's kick around time in Qatar, UK housing targets look increasingly unlikely to be met (though one BBC audience member disagrees), and hotels are coming to Earth's orbit. Plus, a car placed onto a roof for no explicable reason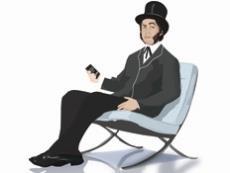 Keepie uppie
One of my hacks was in the Gulf state of Qatar last week to check out preparations for the 2022 World Cup. The Qatari project manager on the Zaha Hadid and Aecom-designed Al Wakrah stadium, Thani Al Zarraa, showed a number of journos around the stadium site, which is starting to take shape with enabling works and foundations work now complete and a pitch area marked out. The PRs didn't miss a trick, bringing along a football to allow the hacks to have a kick about on the pitch that will (probably) host a World Cup quarter final. What team does Al Zarraa support? "Chelsea, England, Italy and Barcelona," he replied generously.
Way off target
My noble chums in the House of Lords have delivered a couple of pokes in the eye to Brandon Lewis and Greg Clark, I'm afraid to report. They gave short shrift to proposals in the Housing and Planning Bill that would allow our housing minister and communities secretary to dictate to councils the proportion of so-called "starter homes" that must be included in new developments. With last year's election manifesto promising an ambitious target of 200,000 such mini-palaces for delivery by 2020, I wonder whether "success", come the next general election, may be redefined to include deposits on yet-to-be-built properties sold off-plan.
Maintaining public confidence
The plebs also have their doubts about our politicians' ability to deliver new homes, it appears. At a London mayoral election hustings event, organised by Reith's lot at the BBC, audience members heard repeated proposals for delivering the capital's targeted 50,000 new homes a year. Asked whether they thought the successor to Boris Johnson and Ken Livingstone can meet the widely supported goal, just one hand was raised in affirmation out of an audience of around 100. Impertinent riff-raff!
Cheaper than London (probably)
At a time when demand for visitor-accommodation in the capital may have peaked, I read with interest that the prospect of floating hotels in space has taken something of a step forward thanks to Bigelow Aerospace and NASA's testing of an "expandable activity module". The windowless pods are protected by layers of fabric that shield them from space debris and offer occupants around 15.9m3 in which to luxuriate - better than average for a Japanese capsule hotel, I am given to understand. One of my hacks flags the
tantalising potential for "offshore" tax benefits, too. I will quiz Cameron the Younger about this next time we lunch at the club.
Peak peddle paddling
Good Samaritans and property consultants McBains Cooper have teamed up with Muscular Dystrophy UK to take on a gruelling adventure challenge to raise money for the charity. The consultants will take part in Muscular Dystrophy UK's "Pedal, Paddle, Peak" challenge, which will see teams of four pedal, paddle and hike across the breathtaking landscape of the Lake District. On average, the challenge will take nine hours to complete, the longest element of which will be a five-hour mountain climb. Every penny raised from the challenge will go straight to Muscular Dystrophy UK and help in its fight against muscle wasting conditions. Needless to say, training before the event is advised!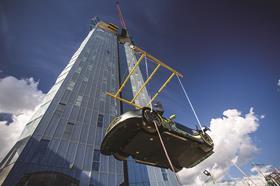 Toot-toot!
You've got to hand it to the petrolheads at London developer Mount Anvil - the residential specialist decided to announce a partnership with Aston Martin Racing by hoisting one of the car firm's GT racing cars on top of its under-construction 31-storey Dollar Bay tower in Docklands. The wheeze (pictured) was designed to highlight Mount Anvil's sponsorship of the team. The developer will also be offering adrenaline-junkies racing experiences throughout the GT season. Sign me up!