This week: sky-high asking prices at Centre Point, an engineer gets stuck into a project, an enigmatic Libeskind video, rail strikes make Parisians go green, and a former Balfour Beatty student is on target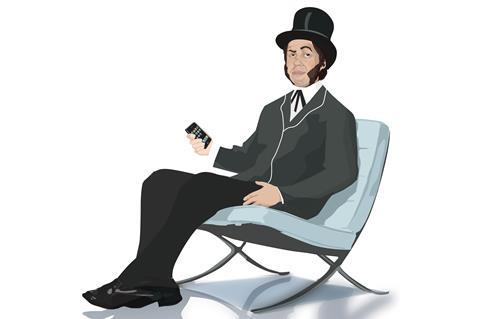 A select target customer
Who would buy a home in the revamped Centre Point, I wonder? More to the point: who can afford to buy a home in the London landmark, which is coming to the end of its reinvention and will feature a £55m penthouse? I'm told the flats will pique the interest of downsizers looking to leave the more expensive bits of the capital behind. At this point I'm reminded of some of the starting prices at the brutalist icon. Two-beds begin at £3.5m with three-beds going for £7.5m. Blimey, what are these people downsizing from?
Hole lot of trouble
Sticking with Centre Point, the original engineer on the job, Wilem Frischmann, told the story of how he worked out how to put a 34-storey tower above a warren of sewers and tube tunnels in the mid-1960s. The solution was to drill close-packed piles into the ground. To make sure everything was as it should be, he inspected the holes himself, even getting stuck in one and having to spend the night there before being rescued the following day. That's commitment for you, I say. And a good argument for carrying a mobile phone on site.
Architect in double Dutch video shock
Ping! An email invites me to watch a video of Daniel Libeskind, the architect behind the masterplan for the reconstruction of New York's World Trade Center, which I'm told "is as divergent as the man himself, moving between his philosophical approach to time, his drawing practice, and the role of absent architectures". I admit I have no idea what any of that means.
France au naturel
France is being hit by strikes in protest at labour reforms proposed by the French government. Rail workers are downing tools for two days a week until the end of June as a result. To cap it all, a software glitch with the Paris equivalent of the Boris bike has meant they are all locked in their docking stations, standing idle. Into all this ventured one of my brave hacks who was invited to take a look at the French equivalent of Center Parcs. Called Villages Nature Paris, the scheme is next door to Disneyland Paris and promises a "complete change of scene to help you reconnect with the things that truly matter". Frazzled Parisians must be heading there in droves.
Mind the gap
Hot on the heels of the construction industry's gender pay gap revelations comes news of more workplace discrimination. Estate agent Savoy Stewart analysed a recent YouGov poll and found that more than one-third (38%) of women felt their gender was the reason they were spoken to in a "patronising manner" at work, compared with 6% of men. One-fifth of women also believed being female was why they were given less complex tasks than similarly qualified co-workers, which I'm guessing means men. Savoy Stewart's chief executive, Darren Best, said the data showed more needed to be done "to bring women on the same pedestal as men". I'm not sure it's a pedestal that women want, Mr Best, but we get your drift.
Scot hot shot
A student civil engineer who has worked for Balfour Beatty on a number of transport jobs in Scotland won gold in one of the men's shooting events at the recent Commonwealth Games in Australia. Balfour Beatty describes 21-year-old David McMath from the University of Strathclyde as a "sharpshooter". I wonder if some at the firm are tempted to suggest he be redeployed onto the late-running, loss-making Aberdeen bypass it's building to take pot shots at the thing.
Taken as read
I see that another Brum library has been shortlisted for a RIBA award. Four years after Mecanoo's Library of Birmingham was fighting it out for the main Stirling prize, Associated Architects' new library for the University of Birmingham is up for a regional award. Both were built by Carillion and if the university's new addition does win a gong when they are handed out next month, I suspect the information about the builder behind it might be, ahem, a bit of a closed book.
Send any juicy industry gossip to hansom@assemblemediagroup.co.uk