A little glamour this week (not before time), as a construction grandee is touched by Tinseltown, Zaha Hadid designs for the Brits, and we get not one but two film festivals - plus, there's a real tearjerker about a bench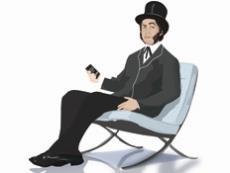 Next up … Zaha Hadid
Zaha Hadid's practice is designing the statue for next year's Brit Awards. The late architect, whose musical tastes were revealed on Desert Island Discs shortly before her death in March, was approached about the commission by Brits chairman Jason Iley at the start of the year. "She was really excited about it," he says. "She enthused: 'I know exactly how I want to do it! I have a vision for it!'" A fan of the Beatles, Sam Smith and Adele, Hadid's design will be revealed later this year – though teaser images, based on design sketches, have been released already.
On the edge of their seats
Carillion is this week doing its best to dispel the myth that contractors are an insensitive lot. The Paradise Circus contractor was contacted by a local to see if it could rescue a park bench from the Birmingham site which is being redeveloped at a cost of £500m. Adam Brooke, born and raised in the city, wanted to see if Carillion could save the bench, where he and bride-to-be Stacey had exchanged gifts together every Christmas, from the place where old benches go. Armed with photos and a description of the location of the bench, Carillion's project manager Nick Reay managed to track it down and the bench, complete with plaque, made an appearance at the pair's wedding last month. Now that's what I call a, ahem, benchmark contractor.
Battle of the film festivals
Earls Court developer Capco is copping it in west London, I see. The firm behind the controversial redevelopment in which the exhibition venue will make way for new homes is doing what the suits call CSR – corporate social responsibility – by sponsoring the second Earl's Court Film Festival. Are people happy? Well, judging by the response of the Earl's Court Area Action Group, it would be a no. The group has set up an alternative film festival "entirely free of corporate spin [which] is not driven by Capco's cynical commercial interests, dressed up as caring for the very community its development is set to wreck". I'm not sure more CSR would win over this set of doubters.
Site for sore eyes
Sticking with Earls Court, my sources tell me the development is moving forward despite all the controversy and objections.
It seems Sadiq Khan's mayoral campaign bluster and "severe reservations" over the project have not amounted to a serious challenge thus far. The site is due to welcome what could be the world's largest crane early next year as it progresses with phase one on the site of the former Earls Court exhibition centre. The directors of Capco will be pleased –some of them have been buying up the very expensive (but as yet unbuilt) flats and they must be thrilled that nothing now stands in their way.
Dead against it
Londoners it seems are least likely to buy a home next to a cemetery, according to online estate agents HouseSimple.com in a story strategically released in the week of Halloween. House prices near the resting dead showed a 50% drop in price compared with the rest of the capital. However, the residents of Leeds appear to have stronger constitutions with homes near cemeteries recording an increase of 7% in price compared with the surrounding areas. HouseSimple.com looked at property prices on streets in 13 UK towns and cities which are next to cemeteries, and compared those prices with the average price for the postcode area. The figures revealed that house prices on these streets are on average 23% lower than the postcode average.
Some like it hot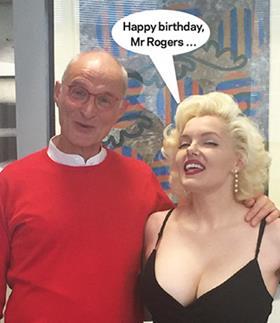 Construction industry grandee Peter Rogers celebrated his 70th birthday last week "in style" at Lipton Rogers' London headquarters (see picture).
It seems some gentlemen really do prefer blondes.
No sooner had this particular party wrapped up, there was cause for another, as the developer's 22 Bishopsgate tower in the City of London – which had been on hold after the Brexit vote – was given the construction green light last week by lead investor Axa. Rogers was, of course, treated to a rendition of Monroe's famous Happy Birthday serenade at his own celebration.
Send any juicy industry gossip to hansom@ubm.com