Images from the New Year binge flash before our eyes: it starts with a game of darts; then fireworks; then we wake up from a disturbing dream about massive lobsters to find we're cuddling a baby seal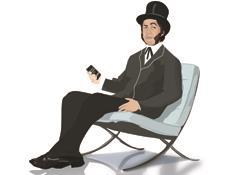 Hitting the spot
I hope you all had a great Christmas break and I wish you all a very happy New Year. Thanks for all my Christmas cards prior to when I left you. Kudos in particular to architecture practice Orms, which eschewed the traditional Christmas card in favour of a booklet entitled "Official Christmas Therapy". The booklet contained a series of dartboards shaped like festive icons, including a robin, a reindeer, Santa and a turkey. The idea, the founders of the firm explained, was to throw darts at festive targets to alleviate Christmas stress. Nestled cheekily among the traditional Christmas fare was a dartboard shaped like a builder - ever a popular target of architects' ire. I note the bullseye is rather close to a delicate area.
Our right honourable friends
There were considerably fewer construction industry names on the New Year Honours list this year, after last year's numbers were boosted by recognition of those involved in the London 2012 Olympic construction effort. However, there was still a handful of gongs handed out. Grand Designs presenter and Hab Housing founder Kevin McCloud was awarded an MBE, while developer Land Securities' non-executive chairman Alison Carnwath was made a dame. Infrastructure UK chairman Paul Skinner and London Underground director of capital programmes David Waboso were made CBEs, while Christopher Seddon, director of contractor Seddon Group, was awarded an MBE. Congratulations to all.
A bigger bang
Dubai once again celebrated New Year with a spectacular fireworks display, which incorporated rockets spilling out from the world's tallest tower, the Burj Khalifa. It was a world-record-breaking spectacle, with half a million fireworks set off in six minutes, easily the biggest pyrotechnic display ever seen. In fact enough fireworks were launched in the first minute of the display to break the previous record, set by Kuwait in 2011 with an hour-long show of 77,282 fireworks. How long can it be until London's Shard gets involved in our own capital's New Year firework displays?
Call in the tanks
The UK has been much blessed in recent years with some mega construction projects, such as the Olympics, Crossrail and the new Forth bridge. One downside is that it's becoming increasingly difficult for projects to break records. But wait! Not even a fortnight into the New Year, news reaches me that fit-out firm Harris is about to embark on the construction of the UK's largest ever lobster tank. The 950ft3 crustacean enclosure will be installed in the ultra-hip Burger & Lobster restaurant on the 5th floor of London's Harvey Nichols department store. The tank will display "exceptional" lobsters to hungry punters, although I think that means exceptional in quality rather than in size. I don't think we need fear mega mutant lobsters. Or do we … ?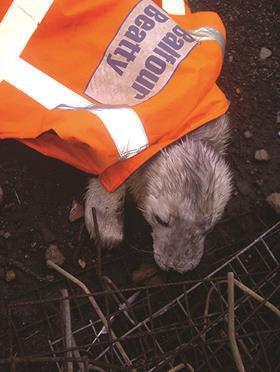 Seal of approval
It may be 2014 already but the tidings of joy keep on coming. My heart-warming tale concerns Tiller, a grey seal pup rescued by Balfour Beatty workers back in October. Tiller was found by the employees, who were working on the Forth Bridge maintenance project for Network Rail. He was less than a week old and unable to fend for himself properly. The workers wrapped him up in a Balfour jacket [pictured] and phoned animal welfare charity the Scottish SPCA. Thankfully he made great progress and has now been released back into the wild after three months' rehabilitation. Aw …
Send any juicy industry gossip to hansom@ubm.com