Suspicious goings-on in the bedroom, recalcitrant plumbing in an ancient loo, growing pains at the Olympics and the case of the disappearing numbers - you can't say we don't bring you variety
Money talks
Naysayers are still picking at Davis Langdon's £204m takeover by US behemoth Aecom. Since the deal was announced earlier this month, many have wondered how much of the price-tag was debt and whether DL was forced to sell up to the American after going £32m into the red. Senior partner Rob Smith has so far refused to talk numbers, but surely the consultancy's results for the year to 30 April 2010 will shed some light on the matter? Well, no. We understand DL won't be sending them to Companies House in the time-honoured fashion, but will instead extend its reporting period to October and wrap the numbers up into Aecom's. So another opportunity to silence the doubters will be missed. People might start getting suspicious …
Bedroom farce
After being made redundant by Turner & Townsend, consultant Bill Hazzledine decided to set up his Staffordshire home as a B&B (see news). One of his first clients said he wanted a quick afternoon nap before heading to the airport, so Bill gave him a reduced rate to rent the room for an hour or so. The man was then spied disappearing into the room with a female companion, after which he bolted the door and closed the curtains. Hazzledine realised he'd stumbled on a recession-proof industry - although not one he decided to pursue, he assures us.
Root-and-branch review
A recent visit to the London 2012 Olympic Park revealed an unexpected consequence of the rapid progress being made at the 100ha site. The popular View Tube venue to the south of the site is open to the public and provides panoramic views of the Olympic site, including the 2,000 semi-mature trees that make up London's biggest ever one-off tree-planting project. However, as the viewing platform is only one storey high, the new trees are gradually taking away the view. Oops …
Screen idol
If you've come across a London fit-out firm called Cameron Black, you might have wondered where the name came from, seeing as it was formed by Simon Black and Rupert Shaw. Apparently, it was dreamed up because the two founders didn't like the ring of Black Shaw or Shaw Black. Instead, Shaw suppressed his ego and drew inspiration from his PC's screensaver, which bore an image of Cameron Diaz. Diaz was in London last week promoting her new film, Knight and Day, but sadly didn't find time to drop in at the company named in her honour.
Two phrases containing the word 'rock'
With the World Cup behind us, we thought we were safe from press releases making tenuous links between building materials and large public events. Not so. Last week we received a missive trumpeting research into festivals: "Britain cements reputation as summer hotspot with 2,820 days of major festivals in 2010." The source of this release was Rockwool, the insulation maker. The link between Rockwool and festivals? Well, it makes sound-absorbing insulation, said the firm's PR, and "festivals are very noisy". He could not confirm, however, whether Rockwool would be offering to wrap the Glastonbury festival in soundproof wool.
No time to loos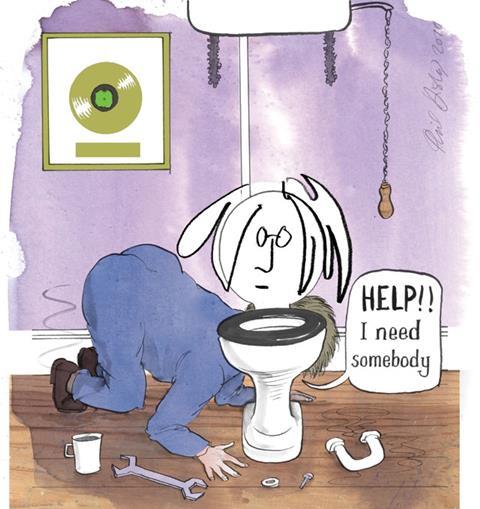 The news this week that John Lennon's toilet is to be auctioned reminded me that a construction superstar, Sir Martin Laing, was rumoured to have had his own exclusive convenience at the Laing HQ. His loo at home wasn't half so deluxe: in the early nineties, a source tells us, the facility began acting up and a string of plumbers could not work out how to fix it. Living as Laing did in a grand old manor house, the toilet was so ancient that no spare parts could be found for it. The number of plumbers who failed to find a solution ran close to double figures before the inconvenient convenience was repaired. We imagine whoever acquires the Lennon loo will be even harder pressed to replace any dodgy parts.
Send any juicy industry gossip to hansom@ubm.com