This week, everything's disappearing - BBC Television Centre is poised for part-demolition, Rafael Viñoly drops off the radar, a housing minister fails to materialise, and we relive a £1bn fortune going down the tube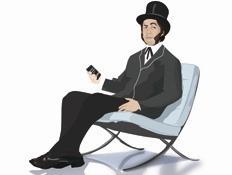 Dan's the man
Treasury chief secretary Danny Alexander may find he has an overflowing inbox this week after the launch of the government's National Infrastructure Plan at the august Institute of Civil Engineers building in London on Tuesday. Ex-London Olympic Organising Committee chief executive Paul Deighton - who has been overseeing the coalition's infrastructure efforts since joining the government in 2013 - said Alexander would help tackle any major problems encountered by those on its list of top 40 projects. "If you are on that list, Danny's your man," Deighton said. This prompted raised eyebrows from the Highlands MP, who perhaps wasn't expecting to take such a hands-on approach to delivering the plan.
Pearls of wisdom
This year's annual National Specialist Contractors Council dinner, held at Vinopolis on London's South Bank, was made all the more memorable for the keynote address by celebrated corporate failure Gerald Ratner - he of the "total crap" jewellery fame. Ratner, who has in recent years rebuilt his jewellery empire, talked about the gaffe that cost him his entire fortune and left him with £1bn of debt, "back when £1bn was a lot of money." There are some upsides to such a colossal fall from grace, however - the first being that when you owe the bank £1bn it's not difficult to get an appointment with your bank manager. The best thing, though, was his tax position. His accountant told him "you'll never pay capital gains tax again as long as you live" as he'd lost more money than all the accountant's other clients put together. Impressive.
Exterminate!
The transformation of the former home of the BBC, the 14-acre Television Centre complex in White City, west London, will soon begin in earnest. Demolition specialists Keltbray and McGee are already on site prepping some buildings for part or whole demolition to make way for the £600m mixed-use scheme that will take its place, although some buildings will be retained and restored, including the distinctive doughnut-shaped central building. On a tour of the complex last week by developer Stanhope and construction manager Mace, my reporter was told legend has it parts of the disused scenery construction facility at the rear of the site inspired the look of Doctor Who's nemesis, the Dalek, including bobbly window panels and a console with a protruding flick switch. Daleks, of course, would have taken over the world by now if only they were able to negotiate stairs.
Country matters
We were a little disappointed not to see housing minister Brandon Lewis when my representative popped into the Town and Country Planning Association's annual conference last Tuesday. His stand in, chief planner Steve Quartermain, explained to the assembled delegates that Lewis had not been able to speak due to pressing parliamentary business. However, one of Lewis' fellow Conservative MPs, who I bumped into on the following day, said the House of Commons had been pretty quiet on the day in question. Hansard meanwhile threw up no clues as to what Lewis had been up to. It's understandable if Lewis is doing some diary management though - his Great Yarmouth constituency is one of UKIP's top targets so he will be tempted to spend more time in East Anglia between now and May.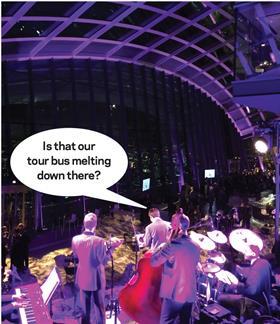 Talking up the Walkie Talkie
Last week one of my journalists wangled a sneak peak of the sky garden at the top of the 180m tall Walkie Talkie skyscraper in the City of London, at a party thrown by Canary Wharf Contractors to celebrate completion of the building. As well as construction completing, guests toasted the raising of an impressive £114,000 for wheelchair sport charity Wheel Power by the project team. The biggest laugh came when Canary Wharf Contractors executive director Cormac MacCrann told guests Rafael Viñoly, the architect behind the controversial scheme, "loves the building, contrary to what you may have heard", following reports he was unhappy with design changes. Sadly my hack couldn't track down Viñoly afterwards to verify this.