This week, the chancellor plays chuff-chuffs, kids get to work on Crossrail, we warm to Cold Homes Week, and the City hands Richard Rogers a big set of keys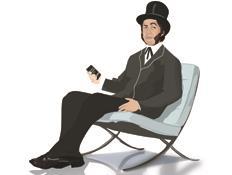 Chancellor goes off the rails
Ministers love a good photo opportunity, particularly when it involves donning high vis site wear and a protective helmet. However, if the latest press release from the Treasury is to be believed, it seems George Osborne has so enjoyed his many site visits that he has decided to go one step further and actually join the workforce. "Chancellor starts work on rail project generating £4bn for North of England," read the press release, seemingly announcing Osborne's new sideline as a navvie. Alas, closer scrutiny revealed the chancellor was only "visiting the start of construction" on the Northern Hub rail upgrades, not actually starting work on the rail project himself. Never mind - it's doubtful whether the chancellor joining in would have done much to help tackle the industry's skills shortage.
Dress up warm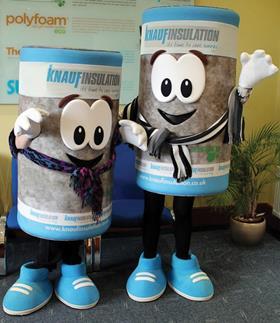 Several construction firms got involved in a big social media campaign last week to end fuel poverty. The Cold Homes Week campaign was orchestrated by the Energy Bill Revolution, an alliance of 170 charities, businesses and local groups calling for warm homes and lower energy bills. So far, 228 MPs and 20,050 members of the public have signed up. As part of the campaign, people were also encouraged to post pictures of themselves wearing scarves on social media under the hashtag #ColdHomesWeek. Staff from Mears, Keepmoat, McCarthy & Stone, Saint-Gobain and Knauf Insulation all got involved. Knauf's effort (pictured) also helpfully answered the question - what would an insulation mascot look like?
Marquees taken down a peg or two
The publicity campaign for London's Real Estate Forum, a property conference last year dubbed the capital's answer to Mipim, is in full swing. Building Towers has received a hefty brochure in the post boasting that 1,000 property big wigs will descend on property's ancestral home, Berkeley Square, for the two-day event on 11 and 12 June. But will it actually happen as billed? The City of Westminster's planning committee threw a spanner in the works last week by rejecting planning permission for 19 temporary marquees for hosting the conference. The organisers have re-applied for permission and say they are "confident" of getting approval second time round. But a source there admits: "It is quite ironic that a property conference can't get planning permission."
Maybe it's because he's a Londoner …
Congratulations to Richard Rogers, who received Freedom of the City of London last week in recognition of his contribution to architecture and urbanism. It is a fitting time for Rogers to receive the accolade, given his Rogers Stirk Harbour + Partners practice's 122 Leadenhall Street skyscraper is completing in the Square Mile just opposite his earlier architectural icon, the 1986 Lloyd's building. Rogers said it was his "good fortune" to be a Londoner, adding: "In the last 20 years,
London has become the world's most interesting city." I doff my hat to him.

And now the boring bit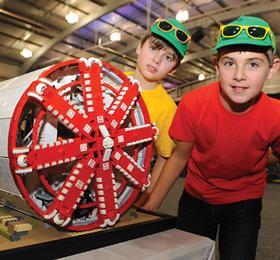 Bechtel's mission to inspire young engineers through audacious Lego exploits continues. The US engineer hosted the First Lego League UK and Ireland Champions in Loughborough earlier this month, where teams made up of students aged nine to 16 took part in a contest to build, test and programme the best robots using hi-tech mechanical Lego sets. Well done to the winners, Invicta, a group from Kent, who will now compete in the global championships in St Louis, USA, in April. Bechtel also unveiled a 2m long moving replica of a Crossrail tunnel boring machine which they had made (pictured). Bechtel's engineers seem to be having as much fun using the Lego as the kids.

Send any juicy industry gossip to hansom@ubm.com