James Corden struts his stuff at the Building Awards, Caroline Murphy veers sharp left for a possible new career, Boris heads up North for a spot of campaigning and cyclists find that charity is the wheel thing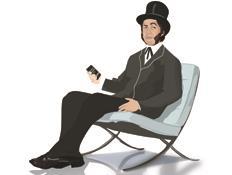 Smithy takes to the floor
It was a pleasure to host the Building Awards at the Grosvenor Hotel in London last week. I believe a good time was had by all who attended. However, no one appeared to have as good a time as actor, writer and host for the evening James Corden, who proceeded to hug, kiss and dance around anyone who dared venture onto the stage. The image of the Gavin and Stacey star gyrating up close to a selection of the construction industry's finest will never be forgotten.
What's up, doc?
… Meanwhile, Building Awards judge and industry luminary Bernard Ainsworth has let slip that he has his own accolade to celebrate. Ainsworth, who counts the Shard and the Millennium Dome among his previous projects, is to be named an honorary doctor in July by Huddersfield University. Ainsworth, who supports students on project-based work at the University's School of Art, Design and Architecture, was typically self-effacing about the honour, but I trust he won't pass up the opportunity to dance Corden-style with the university's vice-chancellor should the chance present itself.
Murphy - a law unto herself
Where next for Caroline Murphy, heiress to family-run contractor Murphy Group, who quit the firm after failing in her attempts to transfer ownership of the firm to its 3,500 workers? Murphy told Building last week she will use her time to continue to lobby Murphy Group to become an employee-owned firm and to campaign for her various causes. But could a career in politics also be on the cards? Murphy secured plenty of column inches and air time in recent weeks, with both the London Evening Standard and The Independent helpfully suggesting that Ed Miliband should give her a call.
No walk in the Parc
Some people will do anything to keep their clients happy. I hear that a team of directors from Nottingham-based consultancy, Edmond Shipway, which are cost and project managers on the new Center Parcs at Woburn Forest, are already saddle sore and weary from training for a charity bike ride - a 500-mile route linking five UK Center Parcs Villages in five days this June. The team are hoping to raise £25,000 for ChildLine and The Wildlife Trusts. The ride will take in Center Parks in Wiltshire, Bedfordshire, Suffolk, Nottinghamshire and Cumbria. "I thought we were having a leisurely cycle around Center Parcs," said participant Daman Ranby. "Then I realised we were supposed to cycle around ALL the Center Parcs. Next time I will read the small print."
virginmoneygiving.com/team/tourdecenterparcs4
Back on the chain gang
Pedalling on, the cycling-mad construction industry is itching for the start of the Tour de France, particularly as this year's route takes in Yorkshire and the south-east of England in its first few days. But cycling enthusiasts from architecture practice Child Graddon Lewis
can't wait for the tour and are planning to cycle from London to Paris (Marble Arch to Arc de Triomphe) to raise money for homelessness charity CRASH next month. To donate, visit wheelsofsteel2p.blogspot.co.uk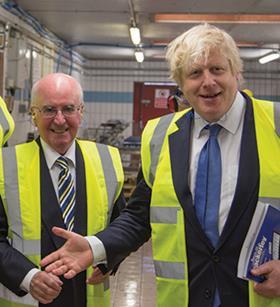 Clad to be boris
London was spared the omnipresent buffoonery of its mayor Boris Johnson when he appeared in Shackerley's cladding factory in Chorley, Lancashire, last Tuesday. Was this the start of his nationwide campaign to replace David Cameron as prime minister? It was not. Johnson was on the campaign trail to support Rob Loughenbury, Conservative parliamentary candidate for Chorley, ahead of next year's general election. In a video on the local paper's website, Johnson is seen discussing the water resistance of different cladding types. Let's face it, politicians have been trying to perfect resistant materials ever since Teflon Tony.

Send any juicy industry gossip to hansom@ubm.com