A cow outside an Urban Splash development, a bridge to nowhere, A-Level students working on the US presidential election and a different kind of candidate in red trousers make up our strangely placed cast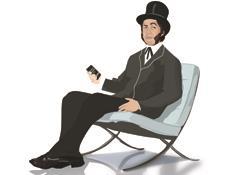 In all good record shops
News has reached us that the planning campaign group formed out of the Garden City movement of the early 20th Century - the Town and Country Planning Association (TCPA) - is to bring out its own album of songs, to "reconnect" with the movement's past commitment to "art and literature." All of which makes me wonder which songs will be on the TCPA's album? I presume Oasis' "the Masterplan" will be there, along with Starship's "We Built this City" anthem, and Sam Cooke's 1964 soul classic, "A Change (of use) is Gonna Come". I'm sure the TCPA would welcome further suggestions …
Pastures new
Struggling to attract residents to your housing development? Why not try putting a cow in front of the building. That is one of the novel proposals being looked at by Urban Splash founder and chairman Tom Bloxham for the Brewhouse residential project in Plymouth. He told the Movers and Shakers property networking event in London last week that one of the applicants for a ground floor retail outlet is proposing to put a Friesian cow outside his cafe to produce milk to put in his customers' coffee. If it gets the punters moo-ving in Bloxham won't complain.
Coming to America
As the US presidential campaign built to its climax of a Barack Obama victory on Tuesday, 12 lucky UK A-Level students experienced the final stages of the campaign first hand. The students were sponsored by educational charity the Transformation Trust and contractor Wates to work with campaign staff for either the Democrats or Republicans in the swing state of Florida over the final 10 days of the campaign. The students were chosen from hundreds of applicants after demonstrating an interest in US politics. There can be few better places to watch history in the making.
Out from the crowd
In domestic election news, architect and former RIBA president George Ferguson will learn next week if he has become Bristol's first mayor. Ferguson, who is said to be second favourite behind the Labour candidate, has also given voters an insight into his red trousers - an eccentricity that marked him out as RIBA president. "There came a point about 25 years ago when I was in a room with a body of men in suits and I just thought to myself - I don't want to be one of these. I have got a pair of red trousers at home, I will wear those," he told the Bristol Post. "Then there came a point when people would remark if I didn't wear them, so they sort of stuck." Not literally, I hope, George.
Out of credit
If the financial crisis had not given you enough reason to distrust bankers, engineer Alan Baxter, senior partner at Alan Baxter & Associates, provided another at a New London Architecture event to highlight the development taking place in Farringdon and Smithfield, last week. Baxter, whose office is in the area, recalled how when he set it up many years ago his bank manager said the area would "never have any value". As Baxter pointed out, with Crossrail and Thameslink set to bring a third of England's population within 45 minutes commute, it's likely he'll have the last laugh.
Bridge to nowhere
My attention has been drawn to this sorry sight, a half-built bridge in the Cornish town of Liskeard. Developers Cornish Homes (UK) Ltd and Linden Homes had planned to build this bridge between two proposed housing developments either side of the town's Lake Lane, but the former developer went into liquidation, halting development of one of the estates. Unsurprisingly Linden Homes has not seen fit to complete construction of a bridge to nowhere and so it has stood unfinished for over a year. Linden Homes told me it had completed all the work it could and, after consultation with residents, created a temporary footpath instead. Seen any other ill-fated construction projects? Email pictures, please.