This week, a high-vis clothing firm enlists the help of a former Ecuador president, an architecture boss hopes animal behaviour will help her win The Apprentice, and the Energy Saving Trust generates heat
No smoke without fire
It's fair to say saving energy is a hot topic right now, but for some it's proving hotter than others. The Energy Saving Trust recently had to move out of its London offices after it was the unfortunate victim of an electrical fire. Calls to the trust are being redirected to its Edinburgh office while the fire damage is repaired. I understand the rumours that staff tried to appropriate the heat from the fire to run the building's heating and power systems are greatly exaggerated.
Glowing campaign
Who better to lead your company's push into Latin America than a former president from the region? UK-based high-vis construction clothing manufacturer Fhoss Technologies has pulled off the unlikely coup of recruiting former Ecuador president Rosalia Arteaga as its sales agent for the region. Unfortunately Arteaga is unlikely to have made many contacts during her time as president - she held the job for just two days in February 1997, until a constitutional crisis in the country forced her to resign. To be fair to Arteaga, she then went on to hold a number of high-profile political roles in both her native Ecuador and Brazil, so she's certainly not a bad person to have on side.
In for a penny, in for a pound
Jack Pringle, Building columnist and co-founder of architecture practice Pringle Brandon is embarking on an ambitious and laudable feat this May - he is attempting to live on less than £1 a day for five straight days to raise awareness of the plight of 1.4 billion people living in extreme poverty. He is hoping to raise £300 for charity, but when I clicked through to his sponsorship page I found he had so far only managed to raise the grand sum of 0p. This column would like to encourage well-wishers to help him out at: www.livebelowtheline.com/me/jpringle
Animal instincts
Rejoice! Construction once again has a candidate to root for in this year's BBC TV show The Apprentice. Gabrielle Omar, a director at architecture practice Lolli & Square, has bravely signed up to the annual 12-week business bun fight. I am pleased to see she doesn't suffer from the typical Apprentice-syndrome of outlandish boastfulness. She told the BBC: "When it comes to business I can be like an animal and I will roar my way to the top." Well, perhaps I was wrong. Sadly this column went to press before the show's debut on Wednesday, so I rather hope she survived the first episode.
While other birds roost
Construction professionals are no strangers to long hours and hard work, but the politicians representing our sector are taking dedication to another level. A recent late night argument between climate change minister Greg Barker and his Labour shadow Luciana Berger on social network Twitter over delays to the government's Green Deal scheme continued until almost midnight. Admirable perhaps, but might this be taking commitment a little too far?
Obstructing justice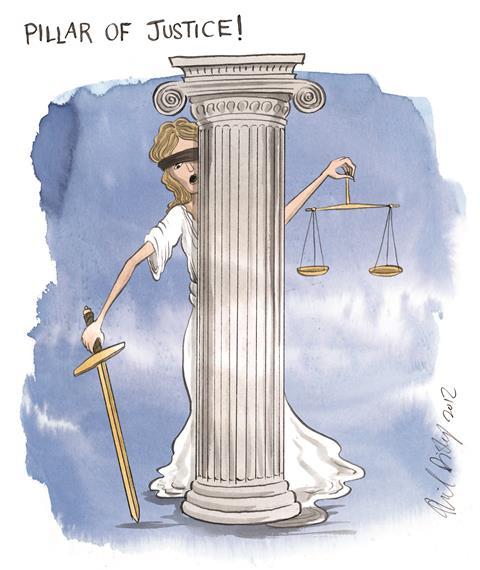 I was rather amused this week by news from the United States, where an embarrassing design clanger resulted in a New Jersey courtroom being ruled "constitutionally defective" by a judge. The court, in Warren County, recently underwent a $7.5m renovation which included a poorly conceived support pillar in one of its courtrooms. The six inch-wide pillar is so badly located that it interferes with justice by obstructing the defendant's view of the jury and vice versa. Superior court judge Ann Bartlett softened the blow of her ruling by saying the new courtroom looks "lovely", even if it is at present unusable.
Send any juicy industry gossip to: