Croydon is Dancing with Wolves, the City may become wooded, Pidgeon and Berry are misrepresented and political animals need to be rehoused. Meanwhile, one team is being threatened by a massive gorilla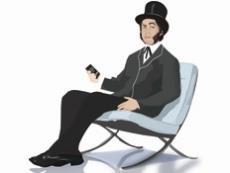 'If you rebuild it, he will come…'
Croydon may not be everyone's cup of tea - which is one of the reasons for the multibillion facelift it is slowly being given - but double Oscar winner Kevin Costner doesn't mind it. The Robin Hood: Prince of Thieves and Field of Dreams star filmed his latest movie in the London suburb and says people had tried to warn him off before filming began. However, he ignored their advice as he likedthe way the name sounded. Costner, Gary Oldman, Tommy Lee Jones and Ryan Reynolds filmed some of recently released action thriller Criminal around the borough. Crollywood, anyone?
A slow burn
Could timber be the new structural steel? Or cause the next Great Fire of London? I only ask as London's first timber skyscraper could be a step closer to reality after researchers presented mayor of London Boris Johnson with conceptual plans for an 80-storey, 300m-high wooden tower integrated within the Barbican. The team from Cambridge university's Department of Architecture, working with PLP Architecture and engineer Smith and Wallwork have said the proposed building would "eventually" meet or exceed existing fire safety standards, but we're not sure that would fill any potential buyers with confidence.
Almost accurate
With so many accusations and counter-attacks flying about in the London mayoral race and EU referendum debate, it's certainly difficult to keep up. So perhaps we can forgive estate agent Chestertons for sending out a despatch informing subscribers of each London mayoral candidate's policy positions and getting a couple of key facts wrong. A sheepish correction issued later clarified that Liberal Democrat candidate Caroline Pidgeon proposes half-price travel fares before 7.30am, as opposed to after 7.30pm, while Sian Berry, the Green candidate, supports the campaign for the UK to remain in the EU and not to leave.
Go west…
The joint committee may still be debating what it should do to enable works at the Houses of Parliament to allow MPs to work in properly heated and air-conditioned rooms, but that isn't stopping others from making suggestions. The mayor of Bristol George Ferguson and architect Studio Egret West are proposing that the Houses of Parliament temporarily relocate to Bristol while the Palace of Westminster undergoes refurbishment. The design for the HoP Bristol exhibition comprises models and drawings that show why the Houses' move to Bristol would be a money-saving opportunity. HoP Bristol runs at Studio Egret West, 3 Brewhouse Yard, London, EC1V 4JQ, 10am - 6pm from 19 April to 6 May.
A design for lights
Construction professionals are invited to take part in a competition to design an inspiring, uplifting and fun light for sick children. The contest is being run by lighting manufacturer Future Designs and children's medical research charity Sparks, who both celebrate their 25th anniversaries this year. The "Design a Light" competition will raise funds and awareness for Sparks. Judges include Brookfield executive Martin Jepson and our very own editor Sarah Richardson. The deadline for entries is 14 July. Full details at www.sparks.org.uk/event/competition-design-a-light-for-sparks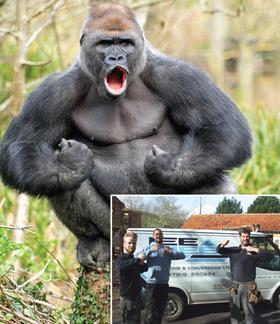 Monkey business
The building world is known for having more than its share of alpha males, but even builders are nervous of this specimen (pictured). The 12-year-old, 176-kilo Western lowland gorilla N'Dowe has decided workers from Torbay firm Lee & Lee (pictured, inset) need to be kept an eye on and occasionally made aware of the pecking order while they construct a play area and kiosk next to his enclosure at Paignton Zoo in Devon. Paignton Zoo volunteer photographer Ray Wiltshire said: "In the afternoon N'Dowe goes over and watches the builders working. He will sit quietly taking it all in for a while - then he goes into his display!" Lee & Lee boss Adrian Lee said it was a "bit unnerving," but they were taking it in their stride.