Unfortunately the festive break was somewhat marred by debt delivery problems and party-pooping snow, but at least we've had Building's Christmas single to sing (and laugh) along to..
Rok bottom
Over the Christmas break the full extent of the havoc wreaked by the collapse of Rok became clear. It owes much more than was disclosed to bidders for the business at the time, and employees are owed millions in unpaid wages, including one Garvis Snook, out of pocket by more than £7,000 (poor thing). Currently, if you search for Rok on Google, a sponsored link comes up directing you to a firm called Corporate Strategies Plc, which promises to sort out all of your problems if you're owed money by the collapsed builder. Still, Rok's administrators' reports make it clear there's no money for anyone but the banks.
Get me out of here …
Having recently become an apparent confidant of business secretary Vince Cable, Gleeds boss Richard Steer was also spotted sitting next to David Beckham in the director's box at Manchester United last week and shortly afterwards chatting away to some of the famed Chilean miners who were watching the Reds as guests of Sir Bobby Charlton. "I was a bit surprised", said Steer, "that the miners seemed disinterested in my views on the latest Low Carbon Construction Innovation and Growth Team report." One has to ask: after Cablegate, England's failed World Cup bid and, well, two months trapped in a mine, is Steer deliberately courting unfortunate celebs?
… I'm a celebrity (sort of)
Shortly after Arcadis boasted that it was rebuilding the Coronation Street set after it was partially destroyed by a runaway tram, Halcrow has experienced its own
on-screen fame. It was approached by Jim Broadbent, who plays an engineering geologist in Mike Leigh's 2010 film about aging and loneliness, Another Year, looking to be shown the ropes of geology. Paul Maliphant, Halcrow's highways and transportation sales director, obliged. Mcfadden Belcher, Broadbent's fictional employer, is also supposed to have been inspired by Halcrow. Good news for employees as Broadbent is about the only happy character in the film.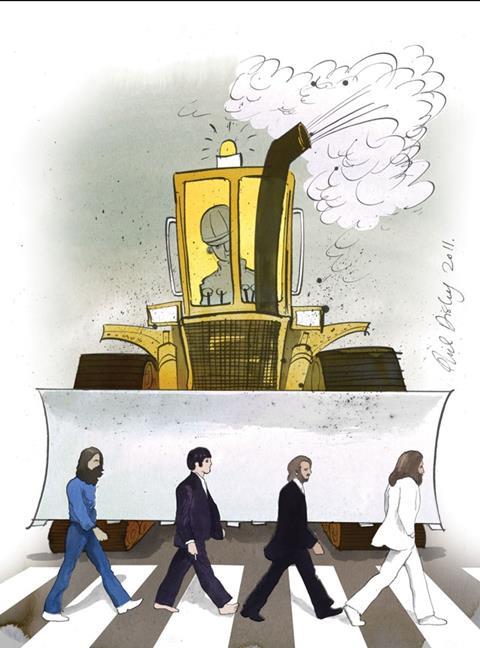 Let it stay
Grant Shapps' heart-warming Christmas commitment to save Ringo Starr's old house from the bulldozers actually runs deeper than anyone thought. On New Years' Eve the housing minister issued a festive statement to let "the people of Liverpool themselves decide whether they want Ringo Starr's house to be demolished or to Let It Be." However, what he failed to mention was the regeneration project that would require the house to be demolished relied heavily on the housing market renewal Pathfinder fund, which was scrapped in May. Clearly Shapps is using every trick in the book to keep the Beatle's house standing.
Party like it's 2012
The savage winter will likely have knocked back construction output. But, more importantly, it wrecked a host of festive drinks parties, including that of the Olympic Legacy Company, overseeing the regeneration of the park after the 2012 Games. It cancelled drinks at the House of Lords after its Scottish chair, Baroness Margaret Ford, was trapped north of the border when airports were closed. Maybe she could have used the free time to plot a bid for the Winter Olympics?
A time for giving
An enormous thank you to everybody who downloaded our construction industry rendition of We Built This City, which raised over £3,000 for children's charity Over the Wall and cancer charity Maggie's Centres. And of course to those brave souls who danced and sang on their behalf: Jonathan Goring, Mark Whitby, Hanif Kara, Sadie Morgan, Linda Morey Smith and Building's own Emily Wright. We salute you. And the sound engineer for their patience.
Send any juicy industry gossip to hansom@ubm.com