As long as we persist in analysing our "construction navels" there is little prospect for long-term transformation of our delivery model, writes Rudi Klein
Never in my experience have we seen such an outpouring of material – reports, initiatives, and inquiries – relating to construction as we have seen in the last couple of years. My summer reading has been taken up with perusing all this material commencing with the Farmer Review, Modernise or Die published in October 2016. Below is the list of my reading material: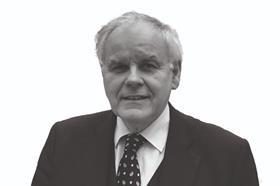 Report of the Independent Inquiry into the Construction of Edinburgh Schools (Feb. 2017).
Retentions in the Construction Industry (Pye Tait report, Oct. 2017).
Project 13 Blueprint by the Infrastructure Client Group and ICE (May 2018).
Reports from the BEIS Select Committee (jointly with Work and Pensions Select Committee), Public Accounts Committee and Public Administration and Constitutional Affairs Committee, all relating to Carillion and lessons to be learnt post-Carillion.
Report of the Independent Inquiry into the Construction of the DG One Complex in Dumfries (April 2018).
Independent Review of Building Regulations and Fire Safety (Dame Judith Hackitt, May 2018).
Procuring for Value (Construction Leadership Council, July 2018).
Construction Sector Deal (BEIS, July 2018).
Off-site manufacture for construction: building for change (House of Lords, Science & Technology Committee, July 2018).
After reading all this – much of which, not surprisingly, is repetitive – I distilled the following key themes:
lowest price rules to the exclusion of actual cost and value;
over-reliance on traditional procurement regimes that are highly fragmented and littered with wasteful processes;
lack of auditing of delivery processes, accountability and responsibility;
lack of reliable means of assessing corporate technical capability;
little or no engagement between supply chains and required client/project outcomes;
appalling treatment of supply chains with widespread incidence of payment abuse and cashflow manipulation;
prevalence of short-termism – businesses, industry eschew long-term strategies;
The Government's Construction Sector Deal adequately sums all of this up in two sentences:
"The current business model of the construction sector is not sustainable. Construction customers and businesses across the supply chain are focussed on the costs and risks of individual projects, and do not collaborate effectively."
Now if we were to calculate the total cost of all these reports etc. it would, no doubt, reflect the cost of building half a dozen new schools. The Edinburgh tram inquiry (looking into the reasons for the massive cost overruns and delays in the construction of the Edinburgh tram system) was last reported to be costing £8 million with costs increasing at the rate of £100k per month.
It seems that we are more prepared to spend millions of pounds on monotonously trotting out the same old flaws in the construction delivery process and nothing on radical action to transform that process. This is compounded by the fact that we all know what needs to be done but then are told there's no available resource to do it.
The Construction Sector Deal promises action on improving construction procurement and contractual and payment practices. So did Construction 2025 launched by the government just 5 years ago to great fanfare. The only thing to emerge from it was the Construction Supply Chain Payment Charter which has been an abject failure; those originally promoting it have refused to account for its failure. In Dame Judith Hackitt's May report on building safety she stated:
"Payment terms within contracts (for example, retentions) can drive poor behaviours, by putting financial strain into the supply chain. For example, non-payment of invoices and consequent cash flow issues can cause subcontractors to substitute materials purely on price rather than value for money or suitability for purpose."
Instead of spending millions on reports, initiatives and inquiries that lead nowhere let's put resources into setting up a Construction and Infrastructure Board. This would be a statutory body modelled on Singapore's Building and Construction Authority. This Authority has been in existence for almost 20 years. Its broad remit is to drive best practice in Singapore's construction industry and ensure high standards of building safety. Constructors wishing to work in the public sector have to be registered with the Authority. An interesting recent initiative from the Authority was to encourage collaborative bidding from small firms. This would enable them to pool their resources and take on larger projects.
A Construction and Infrastructure Board would be able to drive change over the long-term utilising collaborative mechanisms such as insurance-backed alliancing, project bank accounts, BIM and smart contracts. It should also consider ushering in licensing schemes for contractors; such schemes are prevalent in the US, Australia and some EU states. This is something which the Federation of Master Builders is currently promoting.
As long as we persist in analysing our "construction navels" there is little prospect for long-term transformation of our delivery model. Carillion will have been forgotten until we come to the next debacle that hits the headlines. Then we'll have more reports saying the same things and the cycle will begin again. And then we'll be asking: "Whatever happened to the Construction Sector Deal?
Rudi Klein is SEC Group's CEO and president of the NEC Users' Group