Chief executive Pete Redfern explains how the housebuilder has adapted its sites to maintain social distancing

When I walked into the Wimpey business 20 years ago, there was one core belief that was already embedded deep; making sure that people leave our sites safe and well is more important than profit. This sat well with my own values, which were then reinforced when the financial crisis of 2008 hit our sector hard. When the economy recovered, many did not return to the sector and the industry continues to feel that loss today. These beliefs and experiences and the underlying principles of our whole team have helped us create a unified and strong culture.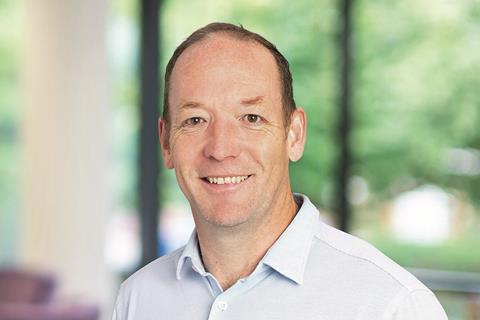 While we are a very different business today, and the particular nature of this current crisis is something we have not faced before, the safety principles that have guided our response to it are grounded firmly in that culture and our past experiences.
On 24 March, when we shut down our sites across the UK, this was because we could not change the way we operated overnight and guarantee construction in accordance with government's social distancing guidelines. We did it because we could not confidently say that our people would be safe.
The protocols take covid-19 and treat it as a 'normal' safety issue
Throughout the last six weeks we have worked with our employees, health and safety advisers, our supply chain, and partners to develop a new set of site protocols and revised guidelines for safe working practices. These include a fully revised set of working practices and risk assessments, new induction procedures and changes to site format, as well as additional bespoke PPE for two-person tasks which we have designed and manufactured in-house.
The protocols take covid-19 and treat it as a 'normal' safety issue. We need to set up the environment properly, establish the right behaviours, have agreed processes and risk assessments for key tasks and have PPE and safety equipment in place. Of all of these, the most important, as ever is behaviour, and that is why everyone on a Taylor Wimpey location will sign up to our covid-19 agreement and have a brand new site induction.
Also important but not immediately visible, are measures like extending opening hours to reduce the number of people on site in any given period and staggering start times, breaks and briefing meetings. Moving meetings outside reduces risk but will need to be monitored carefully as the season changes.
The more physical site-based measures range from moving wash basins outside to create more space, but still giving enough basins to allow regular handwashing. We are also adding pop up wash stations on particularly busy sites. We are also widening walkways, establishing outdoor signing in areas, putting in place signage and reducing desks in the office. In canteens, tables and chairs have been removed and social distancing guidance is in place, and we have implemented one-way systems and passing points on pedestrian routes. On specific sites, we will introduce additional car parking and welfare facilities to cut down on congestion.
With these protocols in place, the return to work is welcome news to many in our workforce and across our supply chain
From this week, our site managers have arrived back at sites across England and Wales to prepare them according to these protocols and to be ready for our subcontractors and direct labour teams. I visited some of them last Tuesday and they are very much up for the challenge and committed to the task of providing a safe and effective environment for work.
With these protocols in place, the return to work is welcome news to many in our workforce and across our supply chain. During the period where our sites were shut, we recognised that many of our partners were hurting financially. That is why we announced our £5 million Pay it Forward Scheme, a loan scheme which pays our trusted subcontractors in advance for work they will carry out in the future, to give them access to cash earlier than government schemes. In order to come out of this crisis in a strong position it is vital that we nurture our skilled workforce and subcontractor network, ensuring they are safe and supported.
We also know that we cannot build homes alone. We need the support of local authorities, registered social landlords and communities, as well as our skill base. We see this crisis as an opportunity to deepen and extend these trusted partnerships.
We have learned a lot in six short weeks, including our ability to adjust and accommodate rapid change – a skill we intend to apply more often as things return to 'normal'. I have also been proud to see our values and culture reflected in the behaviours and actions of our employees throughout this crisis as they go the extra mile to support colleagues, customers, suppliers and subcontractors and their local communities. The most important lesson is one that was already visible when I walked through the door 20 years ago, which is that the safety of our people, all of our people, will always trump any other issue that we face.
Pete Redfern, Taylor Wimpey chief executive
This article was first published by Building's sister title Housing Today
Tell us about the projects that make you proud to help
Building has launched its Proud to Help campaign to highlight all the work construction is doing to support the country's public services, critical works and supply chains, as well as setting it back on the road to recovery. Contact us at newsdesk@building.co.uk with the subject line 'Proud to help' or via LinkedIn or Twitter with your #ProudtoHelp stories