Avoiding a painful period of stagnation can only be avoided if the industry is given time to prepare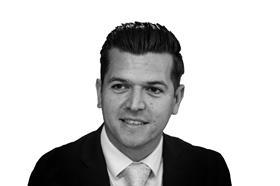 Inaction is a killer. Often the product of uncertainty, it feeds further uncertainty and anxiety, setting off a vicious circle that stifles industry growth and undermines confidence.
No wonder the latest official construction figures make such grim reading. According to the ONS, industry output fell in October 2018, and the value of new orders place in the third quarter of the year was down almost a third on the same period in 2017.
Whatever you think of Brexit, the tortuous Brexit negotiation process has proved grim for construction - an industry that relies more than any other on business confidence and political stability.
Two and a half years on from the referendum, the industry is still holding its breath for a concrete development, or even a whiff of clarity, to give developers, lenders and valuers the intel they need to plan ahead — whatever happens after March.
We simply can't forecast because we don't know what we don't know what the future holds for the country and the economy. Instead of juggling two different Brexit scenarios in our heads, we should be spending that effort preparing for just one.
Valuers, for example, are nervous about setting prices in stone because of the impact Brexit might have on projects after we leave the EU — will those structures still be worth the same two years down the line? Nobody has a crystal ball, unfortunately.
The housing crisis is not going to solve itself — and neither will developers, contractors or lenders if they are all going into Brexit blind. Only when we know Britain's trajectory will we even be able to scratch the surface of the challenges that lie ahead.
Indeed, the dreaded 'Brexodus' of EU construction workers already appears to be underway, albeit at a steady pace rather than a stampede, as wages in Poland rise twice as fast as in the UK. If Brexit wasn't already enough of a reason for many to pack their bags, then the promise of more money back home could well be.
If we are unable to stem the flow of workers out of Britain, It could open up a black hole in the labour force that would be all but impossible to fill in any meaningful timeframe. Unlike previous generations, the majority Britain's youth aren't interested in pursuing a career in construction.
Government simply cannot ignore this looming crisis in British construction and needs to act now or risk hampering UK construction for years to come. A plan needs to be put in motion now to preserve Britain's construction labour force, or the Britain of tomorrow might never get past the planning stages.
In a similar vein local authorities, too, need to be handed the key of clarity. With a shortfall in local planners, beleaguered town halls have been left with an ever-increasing number of planning applications to plough through.
Unless a sudden influx of planners is on the horizon, the only realistic way of quickly delivering new housing is by cutting the red tape. Government therefore should relax planning rules to let developers crack on with their job, make homes for the masses and build the Britain of tomorrow.
I believe British construction is both robust and flexible enough to deal with the fallout from Brexit, whichever way it goes. But avoiding a painful period of stagnation can only be avoided if the industry is given time to prepare by a government pointing us in the right direction.
Blane Perrotton is managing director of the national property consultancy and surveyors Naismiths