Conduct regulators are a feature of many sectors, but not construction – what we've learned about Carillion's abuse of its suppliers shows how much we need one too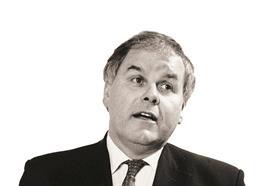 Last month, the Groceries Code Adjudicator (GCA) launched an investigation into the alleged mistreatment of suppliers by the Co-op Group's supermarket chain. The Co-op is accused of unilaterally delisting products without notification and charging suppliers "benchmarking" fees to compare the market.
If found guilty the Co-op Group could face fines of up to £71m, representing 1% of its annual turnover of £7.1bn, so it is now retraining its staff and contacting its 1,500 suppliers to find out whether they thought that their product(s) had been inappropriately delisted.
Last year, there was the threat of a formal GCA investigation into Asda, which had been accused of bullying its suppliers by demanding payments or price reductions to keep products on its shelves. Asda has since ceased the practice.
The GCA was created in 2013 to enforce an ethical code of practice between the supermarkets and their suppliers. It is funded by a levy on the 10 supermarket chains that each has an annual turnover of more than £1bn and it can act on claims of any alleged breaches from trade associations, suppliers, media etc.
A construction watchdog with teeth is likely to have more impact on the largest firms in the industry than any other single measure
After a faltering start, the GCA has now become an effective regulator of the retail sector. The ability to levy fines tends to concentrate the minds of those flouting the code.
A similar role is carried out by the Pubs Code Adjudicator (PCA), which was created out of the Small Business, Enterprise and Employment Act 2015 to enforce a statutory code between the large breweries (owning 500 or more tied pubs in England and Wales) and their tenants.
There are other statutory authorities responsible for promoting ethical and fair treatment of weaker parties. In the financial services sector there is the Financial Conduct Authority (FCA) and the Prudential Regulation Authority (PRD). The FCA is funded by the 56,000 firms it regulates. Its objective is to regulate firms providing financial services to ensure that consumers get a fair deal. The PRA has a more limited function. It operates on behalf of the Bank of England to oversee the governance of 1,500 banks, building societies, investment firms and insurers. In respect of insurers its role is to protect the interests of policyholders.
All this comes into sharper focus following the Carillion debacle. More and more examples of abuse by Carillion of its supply chain have emerged over the past few weeks. These include clauses in Carillion's subcontracts that enabled the firm to unilaterally reduce prices if post-contract benchmarking exercises revealed the original price was too high.
In its services contracts Carillion often insisted on prebates, rebates or discounts, which again were unilaterally imposed. Another "wheeze" was to charge a commission to a supplier on being given a contract. The most well-known practice was to give suppliers little option but to pay a fee to get paid (through its "early payment" arrangements) by doubling its payment periods.
All these examples of unethical conduct could have been the subject of action by a regulatory authority concerned with overseeing fair treatment of suppliers.
I believe construction now needs to seriously consider creating a statutory regulator with the following remit:
To develop a code of practice to govern the ethical treatment of construction supply chains
To receive and act on complaints from suppliers, trade associations or press regarding unethical behaviour
To carry out investigations into allegations of unfair practices that are in breach of the code
To order firms to desist from breaches of the code or pay a fine of up to 1% of annual turnover.
Such a regulator's remit would extend to large companies. These could be firms required to be compliant with Reporting on Payment Practices and Performance Regulations 2017. Alternatively, it might be simpler to say it should apply to firms with an annual turnover of more than £50m.
Care would have to be taken to ensure the regulator's remit did not "clash" with that of the small business commissioner or statutory adjudication. The primary functions of the commissioner are to provide guidance on payment matters to support small firms and to mediate when poor payment practices are referred. Any decisions are only advisory and fines cannot be levied.
A construction conduct authority could investigate instances of general mistreatment of suppliers highlighted in complaints to the commissioner. Similarly, the authority could intervene where unethical practices have come to light in a court decision concerned with enforcing adjudicators' decisions.
Having a construction watchdog with teeth is likely to have more impact on the largest firms in the industry than any other single measure.
There would be nothing more unnerving than an official body investigating a firm's behaviour and publicly exposing it before potentially imposing large fines for transgressions.
In 2003, the Society of Construction Law set up a group to draw up a statement of ethical principles applicable to professionals in the industry. This was prompted by Professor John Uff QC in a lecture at King's College London. Such a statement was duly drawn up, but it has had little impact.
For years there has been empty talk about changing the industry's culture. But the problem cannot be labelled as just cultural – commercial bullying is a deliberate ploy to solidify all risk in the supply chain. Carillion has challenged us to change the talk into effective action to end mistreatment and unethical practices.
Postscript
Rudi Klein is a barrister, chief executive of SEC Group and president of the NEC Users' Group