Ryder Architecture's public relations leader on being distracted by Twitter, his favourite cycling app and the album that takes him back to his bass playing days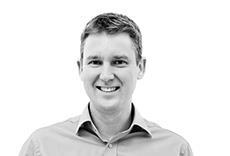 What is your worst digital habit?
Sadly I fall into the trap of being distracted by Twitter. You have to have the discipline of focusing on what's in hand and that shouldn't just be a device
iPhone/Blackberry/Android. Which side are you on?
Really like iPhones. A recent convert but would be hard to go back to the Blackberry now I think
Are you into social networking? (Linkedin, Twitter, Facebook etc)
Yes. Twitter is great but there is quite as bit of voyeurism on my part. LinkedIn can really transport you quickly to other professionals internationally and it's nice to keep in touch with friends 'darn sarf' after moving from London to Newcastle 15 years ago on FB. Horses for courses.
If you are on Twitter, who do you recommend to follow?
Like to follow the main UK train operators for practical reasons as do quite a bit of travelling - and it can save you a lot of pain. And journalists; regional, national and sport (the latter more pleasure). It's where news is being broken but also a great source of journo requests
What is your favourite app?
Really like Strava - the cycle app. When I'm shattered climbing a hill on my bike it really helps put it into perspective afterwards and makes it more rewarding
What is your preferred means of communication? (eg. Email, phone, face to face, text etc)
Always got to be face to face. Machines and computers still have a bit of catching up to do with humans I'd say.
What did you last buy online?
Probably something for one of my three children. In fact it was … a toy dog. The real thing would be preferred but sadly there isn't the time to look after one!
PC or Mac?
PC. Used Macs on newspapers previously as a sub editor which are great; but for everyday use it's a PC for me.
Guilty pleasures: Most played tunes from iTunes/Spotify?
I like digging out old classics, the Teenage Fanclub album Bandwagonesque really brings back my band bass playing days.
David Bootle is a public relations leader at Ryder Architecture