The iPad-loving, Patagonia-trouser-wearing UK managing director of WSP reveals his digital habits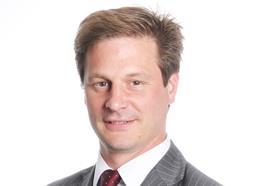 What is your favourite website?
Building.co.uk of course!
What is your worst digital habit?
It has to be my obsession to empty my email inbox, normally late at night and normally by aggressive use of the delete button. This really annoys my long suffering PA.
iPhone/Blackberry/Android. Which side are you on?
Blackberry. Blackberry messenger (or bubbles as I call them) are a great, and free, way of quickly communicating.
Are you into social networking? (Linkedin, Twitter, Facebook etc)
I am on LinkedIn and Twitter but more as an observer than an active participator.
Are you on Twitter? If so who do you recommend to follow?
I do have a personal account but we use @WSP_UK for business news.
Currently I use Twitter to follow the usual news and business commentators which is great at keeping me up to date especially when I'm on the move.
What is your favourite app?
It has to be the Sunday Times app on my iPad, downloaded on a Sunday but available all week so I can read at my leisure.
What is your preferred means of communication? (eg. Email, phone, face to face, text etc)
Face to face is still important to get to know someone. Overall I still think speaking is hard to beat as a fast and effective way to communicate. However I don't use the phone as much as I used to since we introduced Microsoft LYNC which is better than the phone because you can share computer screens and video from the comfort of your desk, airport lounge or anywhere with a Wi-Fi signal. I have to say I really dislike email!
What did you last buy online?
A pair of trousers from patagonia.com for my upcoming holiday in the Lake District, the best outdoor clothing.
PC or Mac?
Work is PC; home is MAC. Apple wins for me as I wouldn't be without my personal iPad which has almost replaced my PC at work and is the first thing I reach for in my leisure time.
Guilty pleasures: Most played tunes from iTunes/Spotify?
I use iTunes to reintroduce myself to the bands I used to like when growing up, there is lots of The Who in my library. I have to say I do like some of the modern music that my children download, which automatically synchronises to my iPad….but don't tell them that as it will immediately become uncool if they knew I listened to their music!
Paul Dollin is UK MD of WSP