After a tumultuous year, it's important that this attention to the industry strategy and its offsite agenda is sustained by the new government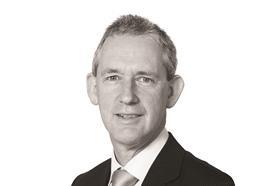 The recent announcement of £38.2m of funding for local authorities to invest in modern methods of construction (MMC) was a welcome jolt of action for our industry. Amid so much political uncertainty, 2019 was shaping up to be a "lost year" for construction. The sense of optimism that surrounded a refreshed government Construction Strategy and the Construction Sector Deal 12 months ago has slowly waned. Yet with this funding comes signs of growing momentum around a government off-site programme and a renewed backing for a modernised construction industry – in policy, and not just ambition.
But is this figure enough? The default is to think bigger sums are always better, but the danger is that these get divided up to the extent it's hard to track where the money has gone. Here, with six recipient councils and 13 sites clearly identified, we're seeing targeted application of funding that will deliver real impact to real projects – which is exactly what is needed. Being able to see the results off the back of this funding is key to driving further commitment.
If Westminster's ambition is to stimulate a "go further and faster" attitude on MMC, then it could not come at a better time.
For now, of particular interest is how this off-site programme ties into the wider regional agenda and devolution priorities – demonstrating the government's recognition of the role construction plays in fuelling the growth of local economies and unlocking their potential.
The launch of a new centre of excellence for MMC across the north of England aims to position the region as the construction capital, leveraging its growing off-site agenda and linking up businesses and academics to ensure it has the required skills to meet advanced technology and deliver modern, high-quality homes.
Through our work with the UK2070 Commission – an independent inquiry into regional inequalities – we're acutely aware of the need to redress the economic imbalance between London and the rest of the UK. The government's off-site announcements can therefore act as the seed of a much-needed joined-up industrial strategy, which places construction firmly at the core.
They illustrate that the government understands the need to generate both demand and capability to deliver modern methods of construction – something which has been missing in the past.
One of the main recommendations to come from the UK2070 Commission is the creation of a network of regional centres of excellence to power the UK as a leader in digital technologies. The ambition for the north of England to take the reins on off-site manufacturing and be the home of the centre of excellence goes someway to achieving this – and demonstrates long-term thinking from Westminster and not simply one-off investments.
The north of England, a key focus for Johnson's government after it helped deliver his election victory, now has the opportunity to lead the way in off-site industry-wide, which will ultimately fuel its economic growth.
Central to this – and a modernised construction industry – is a framework for comprehensive devolution. To accelerate a national off-site programme and fuel regional economies in tandem, we need to be empowering local government to make faster decisions in construction and the use of off-site manufacturing.
After a tumultuous year, it's important that this attention to the industry strategy and its offsite agenda is sustained by the new government. We can't afford further missed opportunities. The government's recent appointment of Mark Farmer as an independent champion for MMC gives some comfort that this commitment will continue – we now have someone in a role who understands the importance of a joined-up industrial strategy to construction and what needs to be done.
These offsite initiatives should act as a timely catalyst for a wider governmental push which links this investment to all sectors across infrastructure and real estate, both regionally and nationally. Now is the time for industry strategy to return to the spotlight.
Bill McElroy is head of industry strategy – programme advisory at Turner & Townsend