There's a world of possibility that businesses can unlock for the next generation, Kier's Louisa Finlay talks about getting involved in Open Doors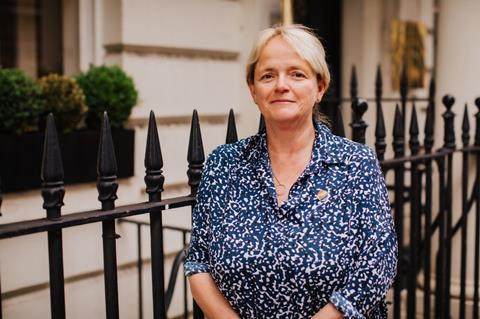 Many of us working in the construction sector will remember the first time we donned a hard hat and set foot on site. There's something unforgettable about the moment you realise how much complexity, planning and skill goes into the buildings and infrastructure that shape our lives each day.
That feeling is something that we want to capture and build on, and next week's Open Doors event is the ideal way to do so. Delivered by Build UK and taking place from Monday 13 to Saturday 18 March, it's an opportunity to not just tell young people and those looking for a career change about the wealth of opportunity in our sector, but actually show them. The goal? To showcase the construction sector as a career where you can really make an impact – economically, environmentally and socially.
The need to attract a new generation of talent is well documented. As a trustee of the CITB, I know it is estimating that 224,900 additional workers are needed by 2027 to meet demand. But a statistic without a story behind it, no matter how significant, is meaningless. It is a story, with personality and passion, that Open Doors allows us to tell – and what a story it is.
>> Also read: Building the Future Young Persons' Advisory panel launched
>> Building the Future Commission: introducing the workplace, culture and leadership stream
This year Kier will be opening sites across the UK, giving the general public an opportunity to go behind the hoardings and get a sense of the diverse range of opportunities available. From our partnership with Network Rail to regenerate Oxford railway station and decarbonise travel, to our project in Wisbech to build a modern new school focused on social, emotional, and mental health, these are projects that are shaping the way we live, travel, work and learn for the better.
Showing future recruits that we are making a difference is key. Research has shown that as many as 70% of us define our purpose through work and, let's face it, this sector provides really meaningful opportunities to have an impact. Whether it's the journey to net zero, new modern construction techniques, providing the infrastructure for renewable energy sources, or building lasting communities, our sector offers a chance to make your mark on the world in a positive way.
It's not just about what we do, but critically, the people who do it, and that's why the in-person element Open Doors provides is so important
But of course, it's not just about what we do, but critically, the people who do it, and that's why the in-person element Open Doors provides is so important. Everyone from young people to jobseekers, or those looking for a change of career, will have the opportunity to meet and chat with our teams. We're confident that, once on site, what they'll find is people that reflect them, and their communities. From those with degrees to those that left school at 16; those that are neurodiverse, to those with learning or physical disabilities; those that are here every day to those that require more flexibility; and - no matter what - individuals from different backgrounds and from every walk of life.
Showcasing this diversity, alongside our projects, really matters, and it's something we are working hard to continue to develop and evolve. We have exciting partnerships in place with the likes of RefuAid to provide opportunities for refugees and the Making Ground programme, which supports prison leavers in finding meaningful employment, and we are incredibly proud of what has been achieved in a short space of time.
As part of our Open Doors events, we're keen that everyone attending has an opportunity to chat to our diverse teams, so they can hear first-hand about the multiple entry routes into our industry, the excitement and variety that the work offers, and the opportunity for real progression and reward.
The main message is that there is opportunity here for everyone. Construction is not just a place for muddy boots and hard hats (although you are welcome to don a pair and get stuck in if that's where your interest lies), but of cutting-edge techniques, bold ambitions and outputs that change the shape of the future.
What we want is a domino effect. Our open doors will push against doors that were previously closed, due to lack of awareness, misconception or uncertainty. We'll unlock imaginations and we'll give people the confidence to dream big and pursue a career right here in construction – an industry that shapes futures and makes futures in equal measure.
Louisa Finlay is chief people officer at Kier Group