A tumultuous year is drawing to a close at Newt, and as it does, thoughts are turning from alternative business strategies to seasonal turkey-based bingefests …
I've always suspected there's a reason why Thanksgiving is one aspect of American culture that has never inveigled its way into British life. It would take a brave man to look me in the eye and tell me there's a place for pumpkin in a roast dinner.
But this year, Thanksgiving has come to Newt. John Jr, whose family has remained in the States while he has been guiding Newt through its tadpole phase, has become increasingly withdrawn as the "holidays" have approached, staring mournfully out of his office window for hours at a time while listening to the theme tune from Cheers on loop. In an attempt to lift himself out of this fug, this week he decided to invite the whole office to a festive lunch at his rented penthouse flat.
John has prepared a speech setting out all we have to be grateful for this year. Should be interesting
So it was, that last Thursday I found myself standing in the lift of Bishop's Stortford's only four-storey building with my colleague Alan Quimby, who had come dressed as a pilgrim father, "to show willing".
"I think you're forgetting that we're the ones who've been taken over," I pointed out, as he fussed over the angle of his hat in the lift's mirrored walls. "A Red Indian would have been more appropriate. And you wouldn't have had to put your belt around your hat like that. I'm not sure the Burtons logo on the buckle is entirely historically accurate."
At that moment the lift doors opened, and we found ourselves stepping out straight into John Jr's designer kitchen. A curious smell of raw meat and candyfloss engulfed us. "Hey guys, come on in!" he said, waving a turkey baster in a gesture of greeting. "You'll find everyone in the back room - I've hooked up the internet to show the big Thanksgiving game - Milwaukee State Cougar Wranglers vs West Arizona Rattlesnake Stranglers. Have a Bud, make yourselves at home - I've just got to finish stuffing the turkey with marshmallows."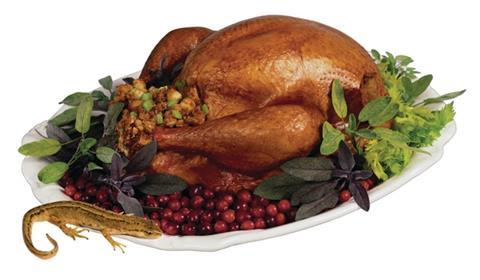 In the back room, the whole Newt family was staring perplexed at a vast screen. "It seems to be a cross between rugby and Robot Wars," Matt Keen was saying. "It's very curious. But we should enjoy it while it lasts. I've heard that, as part of this 'thanksgiving' business, John has prepared a pre-dinner speech setting out all that we have to be grateful for this year. Should be interesting."
This sounded dangerous, particularly the "pre-dinner" part. At Gettysburg, Abraham Lincoln only had a warring nation to address. That's a far more forgiving crowd than a bunch of QSs with the scent of gravy in their nostrils.
But this did not deter John Jr. As the turkey was finally borne to the table - the game having apparently reached some sort of conclusion - he cleared his throat histrionically and began his oration. "My friends, we meet here today at a crossroads in Newt's history. But if we can stand together in the face of this benighted storm, then soon we will move on to broad, sunlit uplands.
"And truly, there is much for which we have to be thankful. There's the long-awaited upturn in the private sector, as clearly indicated by our contract to project-manage the new pound shop in Harlow.
"And we must be thankful that, even as I speak, fresh international markets are opening up before us. Montenegro, Siberia, the Isle of Man - these are the new Dubais! "And we must be thankful that … erm … well, there's the autumn weather we've been having. That's been awesome …" He paused, thought for a moment, and eventually decided that his case had been made. "And so, in summary, this year we've all got a lot to be thankful for. Marshmallow, anyone?"
Quentin Shears, 48, is a partner in quantity surveyor Newt UK, the Hertfordshire outpost of US multinational, Gator Corp.
As told to Nick Jones
Sustainability Now, the free-to-attend online conference and exhibition for sustainable professionals starts on Wednesday 8th December. Hear from industry leading speakers and interact with key associations and suppliers from across the built environment. Click here to register now!