Barking and Dagenham has to be the council the worst affected by the demise of the Building Schools for the Future programme. We look at the impact on pupils and construction in a deprived east London borough that is fast running out of space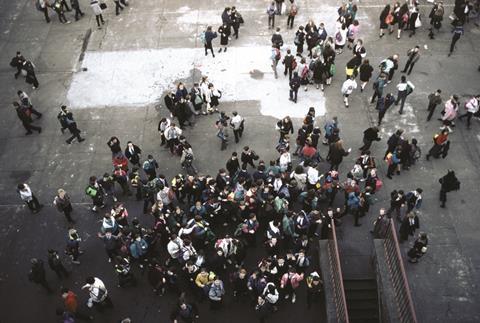 When education secretary Michael Gove announced on 5 July last year that he was cancelling 715 school building projects under the Building Schools for the Future programme, it was bad news for communities up and down the country. But few were hit as hard as Barking and Dagenham. This east London council is not only in the top 20 most deprived in the country, it also has the biggest predicted shortfall of pupil places, with immigration and demographic changes causing its birth rate to rocket 58% in the last 10 years. It had been allocated £270m of BSF cash to meet this need through the redevelopment of nine existing secondary schools and the construction of a new one on the site of the 10,000-home Barking Riverside regeneration scheme. But when the axe fell, Barking was one of those that suffered. As Rocky Gill, the borough's education cabinet member, says: "There's just no way a council can replace a capital programme of £270m. It has a huge impact."
For Barking, the cuts have been compounded by the scrapping of the £7bn primary capital programme to rebuild or refurbish 8,000 primary schools in England, and a general local authority settlement reducing grants by almost 9%. In the past 12 months, the well of government funding across the country has all but run dry. And its impact on the construction industry is plain to see: figures released last week show new orders running 44% below what they were this time last year.
In the first part of Building's Back to School special (there's more on pages 24, 29, 30 and 34), we examine what cuts of this scale mean for the education programme in one borough, Barking and Dagenham, and to the councils that have decided their only option is to challenge the government's decision. Finally, we look at the case of one contractor struggling to make the cuts to enable schemes to go ahead.
Barking and Dagenham
The scale of the need for school places in Barking and Dagenham is startling. According to Gill, by 2020, 32% of the borough's population will be under 20. In the next four years, 900 new primary school places will be needed - the equivalent of building two primary schools every year. The challenge for secondary school places as those children grow, while less immediately pressing, is also huge: 500 additional places are needed by the same point - equivalent to two 8-form secondary schools. This is in addition to the challenge of repairing the dilapidated school estate, where 22% of pupils are already learning in temporary classrooms, some of which are over 20 years old. Gill, who himself went to school at Barking Abbey comprehensive, says: "We're talking about cramped conditions, overcrowding, leaking roofs and classrooms not fully heated. Some of the site cabins I was assured would be removed when I was at school in the nineties are still there today. The science and CDT facilities in particular are appalling."
For Barking, like many other councils, Gove's decision to ditch BSF wasn't entirely a shock. The borough had rushed through a two-stage procurement process, appointing Laing O'Rourke as its local education partnership provider just days before Gove's announcement. The council knew that the further it was along the procurement process, the more likely it was to slip under the wire. So while initially fearing that all 10 schemes would be cut, the council secured a partial reprieve when its two sample schools, with a construction value of £50m, were saved in August.
This meant little, however, for attempts to tackle the looming shortfall in secondary school places. Both sample schools - Dagenham Park, designed by Allford Hall Monaghan Morris, and Sydney Russell - were replacements of existing schools, and together will provide only two of the 16 extra secondary classrooms needed by the borough in the next four years. It also meant little for schools such as Eastbury comprehensive, which missed out entirely. Head David Dixon had been working with Mace to help prepare the school for a £22m redevelopment since a partial PFI rebuild in 2005 left it with some new facilities, but half of the students learning in site cabins. He says the cabins suffer from extremes of temperature that make learning difficult. "There's something that happens with learning in the nice classrooms. The kids were really upset we weren't getting the money. It was a blow," he says. As it is, he says, he's left having to divert resources already under strain into patching up existing buildings, including repairing the boiler to ensure the school can stay open through the winter. "This is a significant amount of money, which you can argue should be spent on books and stationery for learning."
But the shockwaves of Gove's decision go far wider. Aside from the "hundreds" of staff that would have been employed by Laing O'Rourke building the 10 schemes, the contractor had promised to train 75 local people as apprentices, and create 430 work experience placements. These ambitions have been dramatically scaled back - O'Rourke has engaged just nine apprentices and offered three placements so far. Council education adviser James Hodgson says: "Laing O'Rourke has done really well, but inevitably there's only going to be 15-20% of the local employment we expected."
Laing O'Rourke itself won't discuss the scheme, but it is understood it had an internal team of about 15 working on the bid. Architect Paul Monaghan, of AHMM, who had a five-strong team ready to go on Dagenham Park when it was halted, was lucky to have his scheme re-instated by Gove. "It could have been a problem as we also had a Wandsworth school stopped. I'd guess it's much more worrying for the contractors in this situation. People put millions into these bits, and big teams, and would they have made this effort just for two schools?"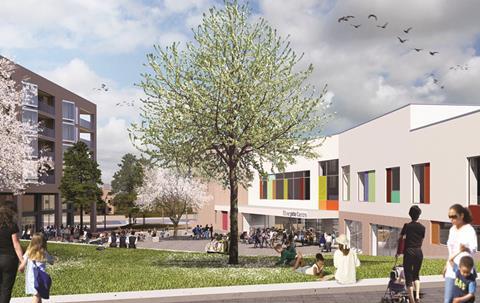 The ripples go wider still. Councillors allege the plans for 10,000 homes at Barking Riverside, in a joint venture between Bellway and the Homes and Communities Agency, have been hit by the cancellation of the £50m school planned on the site. Three hundred and fifty homes are now under construction, but the lack of the school is likely to limit future expansion: it is a planning condition that no more than 1,500 homes can be built without it. Jeremy Grint, director of regeneration at the borough, says: "The school is important. The earlier it can be provided, the quicker the development can take place. It may make the place much more attractive, giving the developer more incentive to build homes."
Unsurprisingly, the council is not simply sitting and waiting for the government to change its mind. While it is in discussions with the Department for Education over the expected £2bn wave of PFI funding, and the £500m that has been found to replace the primary schools programme, it is also taking immediate action. Money from urgent highways work in the borough has been diverted to the schools budget. Gill says the borough has accelerated construction on two primary schools, enabling them to open this week rather than next year, and has already converted some council offices into a school to meet the borough's legal requirement to provide education for its children. The council is also discussing with private landlords the possibility of converting empty warehouses and shops into places of learning. "We have to think outside of the box," says Gill. "Using empty MFI stores for schools is not ideal, but we have a responsibility to school our children."
Judicial review: two councils left disappointed
Six councils challenged Gove's decision to axe BSF in the High Court as part of a judicial review and in February this year the secretary of state said he would review his decision with regard to £1bn worth of school building work in those areas. However, in July the education department said that the schemes would not be revived.
Nottingham council
Nottingham and Luton stood apart from the other councils in seeking to reinstate funding for schools that had actually achieved outline business case approval for their schemes under BSF. Plans to rebuild Top Valley school, Top Valley Learning Centre and Trinity school with £33m of BSF funding were all quashed by the government.
Councillor David Mellen, the portfolio holder for children's services at Nottingham council, said he felt "extremely disheartened" by Gove's announcement that he was not minded to fund any of the city's BSF projects. He said: "It will lead to a two-tier estate in Nottingham, which features some 21st century schools and some schools which are barely fit for the last century."
Mellen said: "This seems to be another example of the government diverting funding towards free schools at the expense of local authority schools."
Sandwell council
Paul Piddock, programme director for BSF at Sandwell council, is pessimistic about the future for school building in his West Midlands borough. Nine schools were affected in Sandwell by the cancellation of BSF, far exceeding the five that are being constructed or have been completed under the scheme.
According to Piddock, the need is critical in his local authority. One particular school, Perryfields High School, is now working from no fewer than 16 mobile classrooms, or site cabins. Not only that, but Piddock believes two-thirds of the BSF school schemes axed by Gove will not qualify for new funding being made available from the autumn.
He said: "We believe six or seven of the schools will not qualify because they are not at least 70% new build - but when you're adding more and more mobile classrooms to a school like Perryfields, where is the value for money in that?"
Piddock believes the government is letting teachers and pupils down by not making funds available for refurbishing schools. He said: "We've had many upset headteachers contact us - there is a basic need pressure in some of these schools and that is not now being addressed."
Interserve: solving the schools funding squeeze
Contractor Interserve has learned the hard way about delivering schools to a tight budget. David Large, strategic director, is a survivor of Labour's very own school building fiasco in 2009, when the Learning and Skills Council (LSC), the quango responsible for delivering the government's £5bn upgrade programme, abruptly ran out of money. In total, 144 college upgrade schemes were put on hold, but Interserve was one of the lucky few to see its scheme go ahead.
But there was a catch. LSC wanted Interserve to build Sandwell College in London at a 15% discount. LSC knocked down the contract value from £65m to £55m. Large says the task was particularly challenging as outline drawings had already been drawn up. But he says this project helped the contractor learn how to make savings through value engineering.
"We achieved it through a variety of means, including changing our construction methods, the way the school was procured and the time we took. One of the key things we learned is that if you start to understand what the client really wants, this helps you to achieve savings."
Interserve is now incorporating some of these lessons into its present day school building programmes. It is building a brand new academy in Leeds - procured in the final wave of BSF - for just £14m. "Gove said he wanted 30% savings and that's what we've achieved," says Large. Construction on the project starts next month.
One of the key ways in which Interserve plans to make savings is by assembling the academy from "pods", or modular elements. But Large is keen to stress the concept is far removed from dreaded site cabin classrooms. "This is a completely different kettle of fish - they sit in an internal environment, they're durable, functional and they use plug-and-play M&E." He claims the school will be the first to be almost entirely constructed using pods. "It will have amazing flexibility - so you can vary the classroom sizes and adapt to different education routes. You can rearrange them over a weekend." Interserve has teamed up with architect Maber Associates, Arup and pod manufacturer Norwood to deliver the school.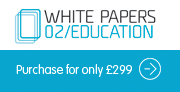 Following the government's response to the James Review. The 60 page report includes analysis of proposed procurement, design and regulatory changes as well as local authorities with the biggest shortage of school places and much more